See A Live-Orchestrated 'Punch-Drunk Love' This March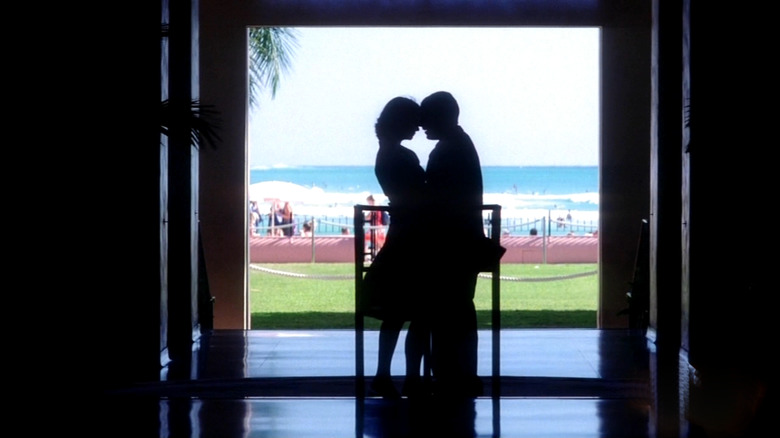 Although Paul Thomas Anderson mainly works with Radiohead guitarist Johnny Greenwood nowadays, the director collaborated many times with Jon Brion in the first half of his career. Arguably their finest work together is the bittersweet music found in Anderson's fourth film, Punch-Drunk Love – one of the finest love stories of the 21st century. A slightly new version of the film has been made, which, depending on your location, you can see in March of next year.
Learn more about the live-orchestrated Punch-Drunk Love screening after the jump.
Sony and Anderson have cut together a 2 hour and 20 minute-long version of the film. The original cut was only 95 minutes, as Indie Wire points out, so perhaps BAM made a mistake with the runtime, or maybe Anderson added deleted scenes or an intermission or plans to make an appearance of some sort.
The re-orchestrated Punch-Drunk Love involves the Wordless Music Orchestra. Their conductors? Percussionists Yuri Yamashita-Morales and Wilson Torres, and Ryan Adams, who's now adding another cool addition to his eclectic career. Adams just put out a cover album of Taylor Swift's "1989," so whenever the musician does something new, it's not at all surprising.
The event is scheduled for March 19th, 2016, and it's only playing in New York City. Tickets are currently $45, which you can purchase over at BAM's official site. Brion's score is pivotal to the film — a beautiful and sometimes uneasy painting of Barry Egan's (Adam Sandler) point-of-view. It's also an unabashedly sweet score at times. Back in 2003, Brion had this to say to the A.V. Club about his work on the film:
"Paul knew he wanted to have a harmonium in the movie. And we knew fairly early on that we wanted a musical nod to Close Encounters Of The Third Kind, in terms of there being a melody that develops in the movie that has a reference to the plot, however oblique. We also knew that we wanted some sort of romantic theme, the feeling of an old Hollywood musical without people ever breaking out into song. That's one of the many ways Paul and I fit together: We like to look around and see what things people have been neglecting or have given up on. The other thing is how outrageously corny some of the orchestra stuff is. Like when they're kissing and the strings swell, I was laughing hysterically, and he was going, 'No, bigger, bigger, bigger.' It still cracks me up whenever I see the movie. But there's something beautiful about that at this point, because people have gotten so far away from that that it was fresh again. It was so funny to be on sessions and conducting the orchestra and looking at the screen—it was like 1938 all over again."
I wish BAM would release more details about the event, but maybe they want to keep some elements a surprise. Is the orchestra playing a vastly new interpretation of Brion's score, or are they sticking closely to it? If you're in New York this March, you'll be lucky enough to find out.