J.J. Abrams Says 'The Raid' Stars Are "Incredible" In 'Star Wars: The Force Awakens'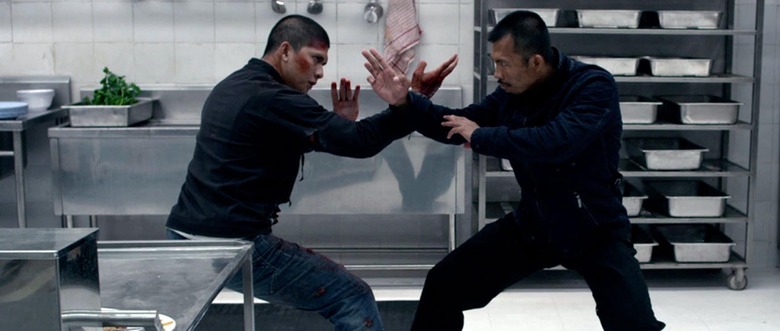 Three of the main actors from Gareth Evans' The Raid and The Raid 2 have roles in J.J. Abrams' Star Wars: The Force Awakens. How did The Raid series star Iko Uwais, Yayan Ruhian (who played Mad Dog and Prakoso in the films) and Cecep Arif Rahman (who played "The Assassin" and fought in the kitchen finale of the sequel) make it into the new Star Wars film? I asked director J.J. Abrams for details and here is what he told me about The Raid stars in Star Wars: The Force Awakens.
At the Star Wars: The Force Awakens press junket I asked filmmaker JJ Abrams how the stars of The Raid became involved in The Force Awakens. Here is what Abrams said:
I was just a fan. It was an opportunity. I knew we needed people for this one sequence that would be particularly fun to see a group of people working together. It was simply just as I had seen John Boyega in Attack The Block and thought "how cool would it be to work with that guy one day?" and the opportunity arose and it worked out. And opportunity arose for this and I thought "God, I wonder if the dudes from The Raid would be available?" And to my amazement, and they were willing, and they were incredible. They showed up and did a terrific job.
That said, Abrams warned me that they don't have a huge role in the film:
Not enormous roles in the movie, but wonderful to have them in the film.
Uwais and Ruhian not only starred in The Raid films but choreographed the film's critically acclaimed action sequences. If you've never seen either of the movies (well, just do it), but here is an amazing action sequence from the second film:
So what role do they play in the upcoming Star Wars movie? Did they choreograph a cool lightsaber duel? I've heard their roles and their contribution has nothing to do with the Force or lightsabers.
Possible information on what roles and scene they will feature into follows...
Toys showing a character named Tasu Leech have convinced some fans that he is played by one of The Raid actors — he looks most like Yayan Ruhian. The official Star Wars databank tells us that Tasu Leech "leads the notorious Kanjiklub gang, an intergalactic criminal organization."
The character is presented as a minifig in a Millennium Falcon LEGO set alongside a "Kanjiklub gang member," who could easily be one of the other stars from The Raid. So it looks like the action sequence that involves The Raid crew has something to do with the Millennium Falcon.