'Teenage Mutant Ninja Turtles: Out Of The Shadows' Set Visit: A Classic Franchise Finds Its Footing Again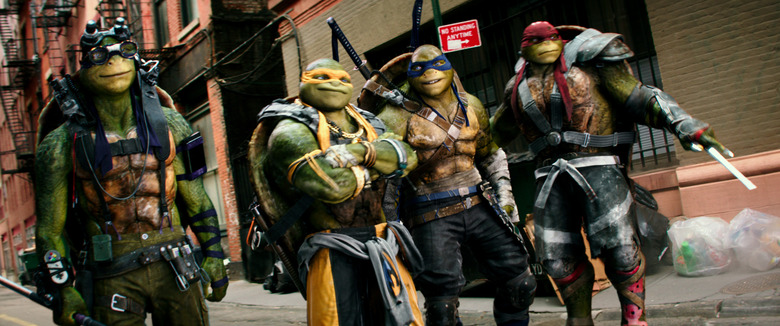 New York City is practically teeming with superheroes these days, but there's always going to be a place for the Teenage Mutant Ninja Turtles. The "heroes in a half-shell" have been charming fans since the 1980s, undergoing several makeovers in the meantime. Most recently, they returned to live-action with their 2014 big-screen feature — and next year these turtles will be back for more with Teenage Mutant Ninja Turtles: Out of the Shadows.
Back in June, I had the opportunity to visit the New York City set of the movie. And yes, I do mean a New York City set, not a Vancouver-pretending-to-be-New-York-City set. We visited a law school dressed to look like a police station, and the effect was so convincing that I walked by the set several times trying to find it before I realized what I was looking at.
While there, I got to chat with some of the cast and crew. Among other things, they revealed what they learned from the first film, what's gonna be different in the next film, and what they're really looking forward to showing the world. Read my Teenage Mutant Ninja Turtles 2 set visit report after the jump.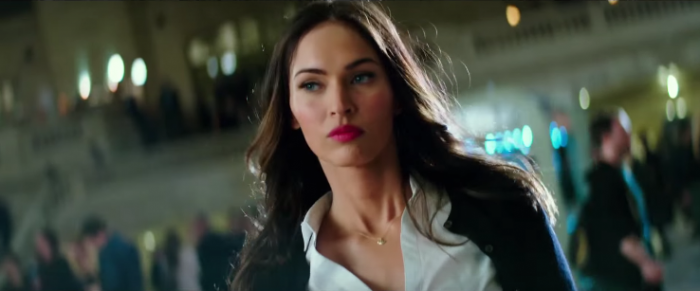 Learning From the First Film
Because the characters mean so many different things to so many different people, the 2014 feature faced the daunting task of figuring out how to satisfy fans both old and new, as well as how to retain the classic Turtles essence while updating them for the modern era. The 2016 sequel, on the other hand, got to build off of its predecessor, benefitting from both its successes and its stumbles. In typical sequel form, it sounds bigger, splashier, more expensive — but also warmer, funnier, and more emotional.
Screenwriter André Nemec, who'd also worked on the first film, was frank about the difficulties of establishing the franchise. "There were so many unknowns in the first movie, the biggest unknown really being how were the turtles going to play out real, were we going to be able to make the turtles feel in the world we were shooting in," he said. As with any franchise-starter, he said, "You're sort of getting your bearings and trying to figure out, who are we and what's our tone, what's our feel, what's our storytelling, and what are our visuals and the cinema behind all of it."
Actor Alan Ritchson, who plays Raphael, admitted they were still figuring out those questions as they shot the last movie. "We made several different versions of this movie last time, tonally trying to find what this was." It wasn't until they saw the finished product that the actors even realized what it was. "We all saw it and it was like, 'Oh! This is a comedy,'" he recalled. "There's a whole other movie on the cutting room floor. A couple."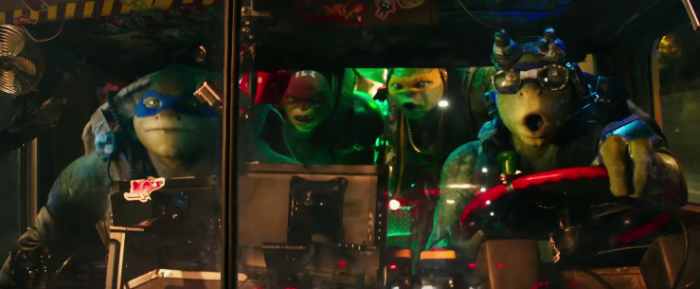 More Heart, More Humor, More Turtles
Once it became more obvious what Teenage Mutant Ninja Turtles was, the talents were able to better understand what made the film click. "Coming into this movie we learned a lot from the making of movie one," acknowledged producer Andrew Form. The actors were even more specific. "I think the comedy and the chemistry of the turtles was what seemed to work the best the first time, and what is the emphasis this time," said Ritchson. Added Pete Ploszek, who plays Leonardo, "I think that was clearest in the elevator [scene] the first time."
The sequel leans into the first film's strengths, adding more heart to the story. "You're really going to see four brothers being brothers, and fighting and trying to make up and telling each other how they feel," revealed Ploszek. Growing pains will also be explored. "I think the movie leans into a very strong theme of what it means to grow up, and leaning into the notion of the teenager part of Teenage Mutant Ninja Turtles," said Nemec. There will also be more laughs: "For this movie, humor is the thing we gravitate most towards, finding the humor and the irreverence of the movie."
Best of all, fans can expect to see much more of the turtles themselves. "The first movie was one-third turtles, this is two-thirds turtles of just screentime alone," teased Donatello actor Jeremy Howard. Or as Ritchson put it: "So the first time, if it was April's story, this time it's the turtles'." The actors admitted that financial constraints were part of what kept the turtles offscreen or in the shadows last time, which makes the subtitle "Out of the Shadows" seem rather literal.
***
On the next page, dig into the action of Teenage Mutant Ninja Turtles: Out of the Shadows, and learn more about the new characters including Casey Jones.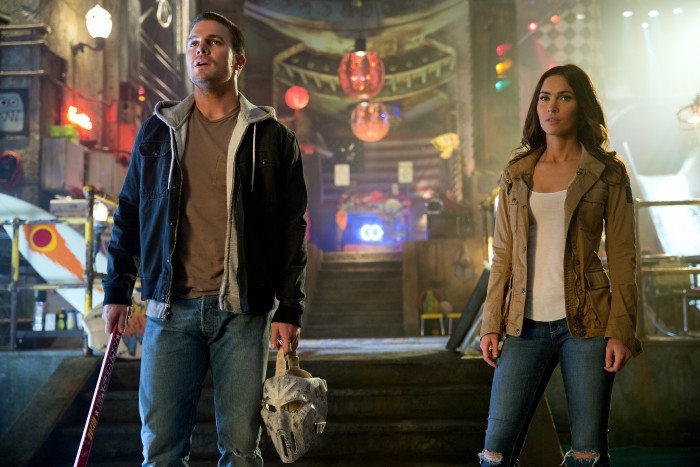 Fast and Furious Action
Which isn't to say Teenage Mutant Ninja Turtles: Out of the Shadows will just be smaller emotional storylines. As we've already seen in the first trailer, there's plenty of action to go around, too, and it's bigger and better than ever. "We open up the sky at the end of this movie and crazy stuff happens," said Form. "The stakes in this movie are global." When we visited about halfway through the shoot, the actors sounded especially excited about a car chase scene they'd shot in Buffalo. "We got the guys from Fast and Furious to come in and do it. And it looks epic," gushed Ploszek. "It looks like a summer blockbuster movie this time."
The sequence in question involves the famous turtle van, which is also glimpsed in the trailer. "That thing did 60 miles per hour up in Buffalo with flames coming out of the side," said Form. "It's a big upgrade from movie one, that little turtle van we had in movie one." Ritchson teased: "The film starts out super explosive and it just doesn't let up. We've actually seen some of it already cut together and it's pretty mind-blowing."
On the evening of our visit, Ritchson and Noel Fisher (who plays Michelangelo) were decked out in mo-cap outfits, shooting second-unit footage inside the police station. The scene, which comes in the second act of the movie, had the turtles trying save their friends April and Casey, who'd snuck into police headquarters. We watched as pretended to burst in through the ceiling, debris falling all around them. In the process, the turtles made themselves known to the world — and "all hell breaks loose," teased Form.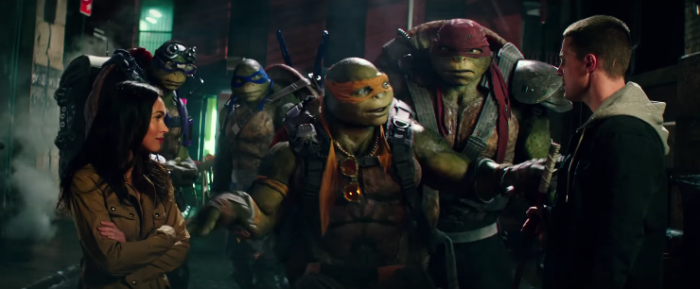 New Friends and Foes
Oh, and about Casey Jones: The hockey-masked vigilante is arguably the most highly anticipated new character in the sequel, which also introduces Bebop (Gary Anthony Williams), Rocksteady (Stephen Farrelly), and Baxter Stockton (Tyler Perry). But actor Stephen Amell was quick to acknowledge that his take on Casey Jones might not quite be what fans expect. "We are meeting Casey in this movie at a very different point," he said, comparing the movie character to his comic book counterpart. "The Casey that we met in the previous live-action films was a finished product."
Fans have been waiting a long time to meet the new version of Casey, and so, it turns out, have the filmmakers. "We had, in early drafts of the first movie, explored the Casey Jones character," revealed Nemec. Casey was written out eventually, but, Nemec continued, "We always had it in our craw to have the Casey Jones character be part of the Turtles franchise, and this movie is the right way to introduce him into their world." Especially since he serves an important function within the movie. "He's the fresh eyes now coming in," explained Form. "He's the audience at first."
Another key addition is the Rebecca Vincent (Laura Linney), the NYPD's bureau chief of organized crime — think of her as sort of the turtles' equivalent of Batman's Commissioner Gordon. Ploszek described the turtles' relationship to her as an "on-again, off-again" one. "I think she's just a skeptical New Yorker," Linney said of her character's initial reaction to the creatures. But she eventually warms to them, and according to Linney could even assist them on future adventures. "I could potentially come back," acknowledged the actress when asked about her contract.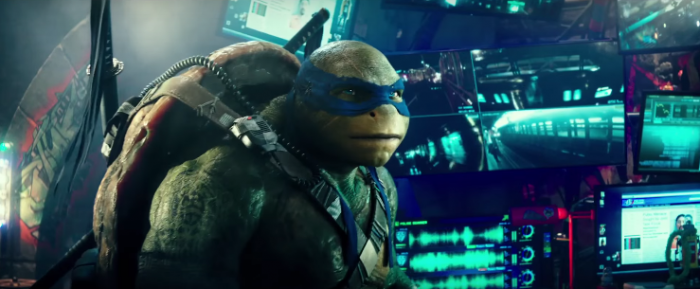 (Almost) Everyone's Got a Favorite Turtle
Not surprisingly, many of the cast and crew behind Out of the Shadows were fans of the Turtles beforehand. "[Director] Dave Green grew up a huge turtle fan. He loves the turtles so much," said Form. "He used to dress up as Donatello when he was a kid." And he wasn't the only one. "I think we were all fans," Ritchson said — though he admitted his favorite wasn't Raphael, whom he plays in the movie, but Michelangelo. "I'm still waiting for something tragic to happen to him," he joked, gesturing to his co-star Fisher, who plays Michelangelo.
Howard and Ploszek, who play Donatello and Leonardo respectively, claimed their own characters as their favorites. ("Leo is no one's favorite!" exclaimed Fisher.) Form also chose Leo, while Linney picked them all. "I love them together. I love how their personalities ping off each other," she said. Meanwhile, Nemec readily admitted, "I was a fan, I can't say I was a super fan." Which, he theorized, may have worked to his advantage. "I think sometimes [it is] better, or at least easier, coming into a franchise when you're not a super fan because you don't carry any of the anchors of being a super fan," he said.
***
On the final page, find out what Easter eggs to look out for, and where the franchise may be headed next.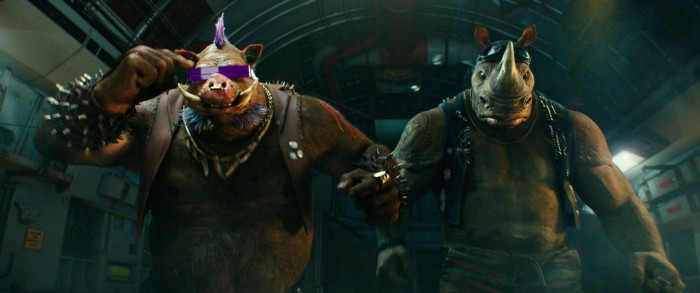 Looking to the Future
If Teenage Mutant Ninja Turtles: Out of the Shadows is a hit, it's a pretty safe assumption there'll be more where that came from. While Form insists they're going one movie at a time, the filmmakers are already laying the groundwork for future films. "I think we'll see how that plays out at the end of the movie, which would drive us into, listen" — Form said, knocking on wood – "if we're lucky enough to make a third one, which God I hope so." He did drop a few hints, however: "We talk about other dimensions, we talk about the villains, but we really haven't talked about journeys for the turtles or anything yet."
More movies would apparently be just fine by Nemec. "Look, the sandbox is so big," he said. "There are so many delicious characters, and caricatures at times, to be able to pull from and to mine into, that we'd be seven movies in and still probably not running out of things that we could pull from the 25 years of the Turtles." He also admitted there were characters he hasn't been able to include yet, but that "hopefully down the road" will could make appearances.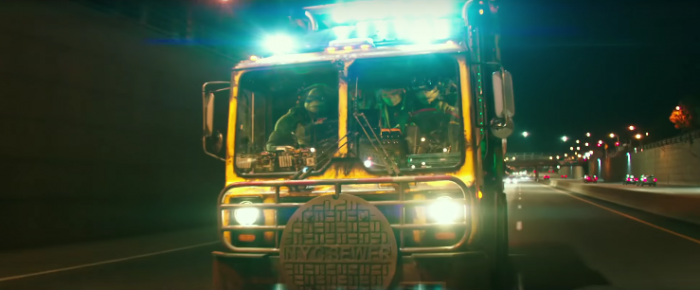 Hunting for Easter Eggs
With so much history to draw from, it shouldn't be surprising that Teenage Mutant Ninja Turtles: Out of the Shadows promises plenty of Easter eggs for longtime fans. "Yeah, there are a couple of good, fun, deep canon Easter eggs. There are things that if you are paying attention, there will be a name here or there. There will be a number on something that means something to super fans," Nemec teased. "I'm like, there are eight people who will see this movie and be like, 'Right on! I can't believe they did that.' But probably not more than eight people will notice some of the Easter eggs."
One of the most obvious nods will be a cameo by Judith Hoag, the original live-action April O'Neil. "Judith was amazing, and it was so fun to shoot the scene with the two Aprils when they worked together," said Form. "And there's a great Easter egg in that scene you see in the movie, between Judith and Megan, and that we played in nicely. I think every fan will smile when they watch that scene." Alas, they will not include appearances by Sam Rockwell (who was in the 1990 film) or Elias Koteas (who played Casey Jones in that movie). Form admitted that while they'd spoken to those actors, "it didn't work out."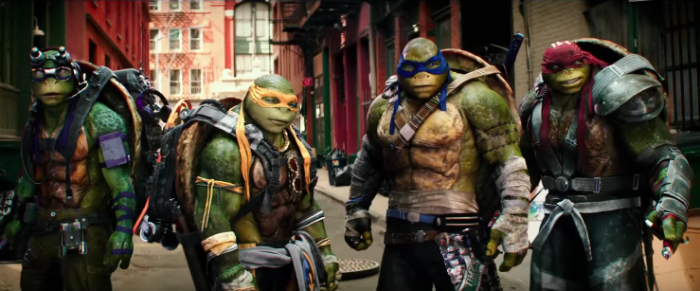 Will This Be the Movie Fans Wanted?
Any property as big and beloved as the Turtles is going to be held up to close scrutiny, and Nemec wisely realizes that "inevitably we're gonna agitate somebody." Which isn't to say he doesn't care what those super fans think. "I want the fans of the Turtles to like this movie. We don't want to go that far afield that people are like, 'Wow, those guys murdered the Turtles. After 25 years those guys put the nail in the coffin!'"
Ploszek commented on the way the filmmakers responded to the response from fans: "I think everyone's paying attention to how people felt about the first one, and what they want to see, and what faithful means, and what it doesn't mean. I think there is sort of awareness now to do right by the franchise." And they're making efforts to course-correct as needed. "We're all actually here viewing this movie almost like what we should have made the first time," said Ritchson.
At the same time, though, Teenage Mutant Ninja Turtles: Out of the Shadows will be its own thing. "We're gonna make our own new story. And we're going to tell our own version of it, who the Turtles are, where they come from, and why they walk and live and breathe in this world," said Nemec. And in that way, they're creating a whole new generation of Turtle devotees. "The truth is, we're going to make our own fans on this movie," he said. "I look at my nephew, who is seven. And now he's become this fan of the Turtles. These are his Turtles."
***
Teenage Mutant Ninja Turtles: Out of the Shadows arrives in theaters June 3, 2016.