'Agent Carter' Season 2 Clip: Jarvis Really, Really, Really Hates California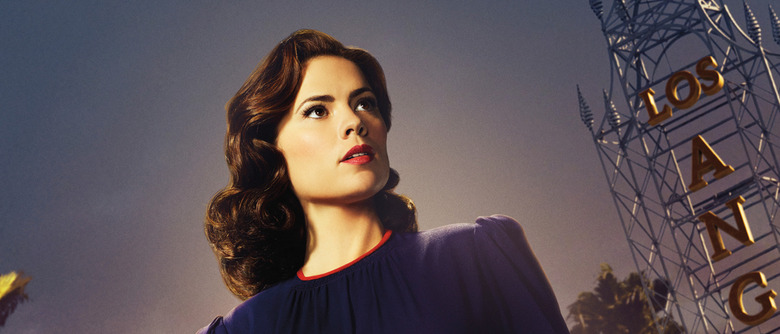 We're looking forward to seeing Peggy (Hayley Atwell) punch all of L.A. in the next season of Agent Carter, but evidently not everyone is thrilled about the westward move. Jarvis (James D'Arcy), it turns out, hates sunny Southern California. Despises it. Absolutely loathes it. "You have no idea how foreign Los Angeles will seem to a civilized person such as yourself," he complains to Peggy upon her arrival.
Not that he's letting his reservations about his new home stop him from going on adventures within it. In fact, Jarvis practically begs Peggy to let him chauffeur her around the city in the first clip from Agent Carter Season 2. Watch it after the jump. 
iTunes premiered the Agent Carter Season 2 clip.
Super-spy #AgentCarter returns for season 2!
Here's an exclusive sneak peak. @AgentCarterTV https://t.co/l2SLLp9nRNhttps://t.co/gBt0OeBn1a

— iTunes TV (@iTunesTV) December 8, 2015
As a former Angeleno myself, I've got to admit he makes some good points. We do eat avocados with everything, though Jarvis and I apparently disagree on whether that's a positive or a negative. The foliage is preposterous, and the weather is unbearably hot. And anyone who's tried to brave the 405 at rush hour will have to concede that "the drivers are both abundant and abundantly irresponsible."
Well, now we know what Howard Stark (Dominic Cooper) is going to be up to next season: he's apparently making a movie. Besides those three, Agent Carter Season 2 will also bring back Enver Gjokaj as Daniel Sousa, Chad Michael Murray as Jack Thompson, Dominic Cooper as Howard Stark, and Bridget Regan as Dottie Underwood.
New characters will include Wynn Everett as Peggy's new enemy Whitney Frost, Reggie Austin as Peggy's potential love interest Jason Wilkes, Ken Marino as crime boss Joseph Manfredi, Lotte Verbeek as the frequently mentioned Ana Jarvis, Kurtwood Smith as War Department vet Vernon Masters, and Currie Graham as Whitney's husband Calvin Chadwick.
Agent Carter Season 2 kicks off Tuesday, January 5 at 9/8c with a special two-hour premiere.
"Marvel's Agent Carter" returns for a second season of adventure and intrigue, starring Hayley Atwell in the titular role of the unstoppable agent for the SSR (Strategic Scientific Reserve). Dedicated to the fight against new Atomic Age threats in the wake of World War II, Peggy must now journey from New York City to Los Angeles for her most dangerous assignment yet. But even as she discovers new friends, a new home – and perhaps even a new love – she's about to find out that the bright lights of the post-war Hollywood mask a more sinister threat to everyone she is sworn to protect.