'Ant-Man And The Wasp' Enlists Two More Writers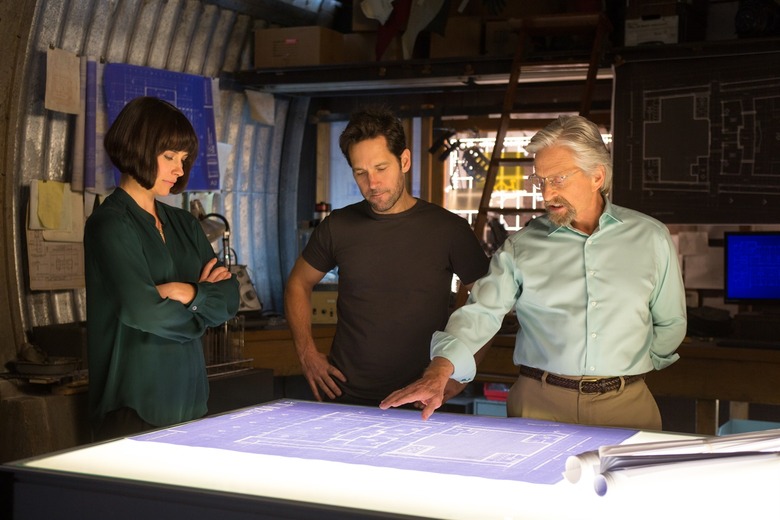 Ant-Man and the Wasp may not be a heist movie, but it's currently in the "getting the gang back together" phase of any good heist movie. Paul Rudd and Evangeline Lilly were basically confirmed to return the second the film was announced (those are their character's names in the title, after all). Director Peyton Reed soon followed, and so, it seems, has writer Adam McKay. Now scribes Andrew Barrer and Gabriel Ferrari are set to come back as well.
More about the Ant-Man and the Wasp writers after the jump. 
Deadline reported on the Ant-Man and the Wasp writers. Barrer and Ferrari will work with Rudd and McKay to crack the story, and then Barrer, Ferrari, and Rudd will write the screenplay.
The first Ant-Man was written by Edgar Wright and Joe Cornish and then rewritten by McKay and Rudd when Wright dropped out of the director's chair and Reed took over. All four got screenplay credits. Barrer and Ferrari did not, but they put in six months' work of uncredited work on the first film. They were hired in July 2014 to do a last-minute polish, and then stayed on as on-set writers during the production.
Baarrer and Ferrari landed on the 2010 Black List for their script Die in a Gunfight. Since then they've worked on a Magic Castle movie that McG was once attached to direct, and a Sabrina the Teenage Witch superhero-style movie that's yet to come to fruition. More recently, they joined the Transformers writers room led by Akiva Goldsman.
Reed has Ant-Man and the Wasp will have "an entirely different genre template" from the first film, and that he wants to go "much weirder" this time around. "Part of thing that we're going to explore, as shown in the comics, is how [the Ant-Man and Wasp] are such a great duo and partnership," he said. "Where will their personal relationship be at that point, and what will be their fighting style together?"
Reed has hinted that we could yet see Giant-Man in the Marvel Cinematic Universe, and there's been much speculation about whether Hope's mother Janet could show up. (Lilly, for her part, wants Michelle Pfeiffer to win that role.) However, few concrete plot details have been revealed so far about Ant-Man and the Wasp. Personally, I just have one request for Marvel: Bring Michael Peña back.
Ant-Man and the Wasp crawls into theaters July 6, 2018.