Young Whippersnapper George Clooney Nabs Matt Damon, Julianne Moore, And Josh Brolin For 'Suburbicon'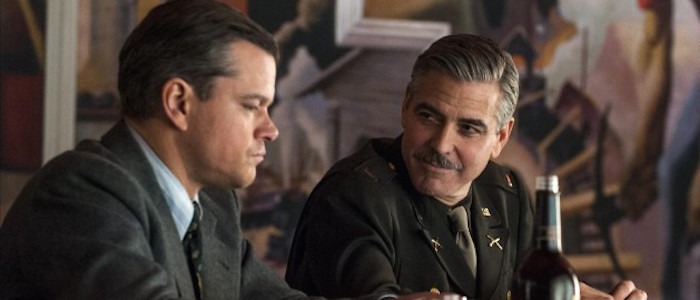 George Clooney is a magnet – place him in an undisclosed location and watch as talented people of all stripes slowly gather around him and agree to participate in whatever he's working on at that given moment. The list of great directors who have cast Clooney in their films is staggering, and the list of great actors who have been directed by him is equally so. Even when he makes a bad movie, Clooney emerges from the mess smelling like a couple million bucks.
The latest news from Camp Clooney is that his latest directorial effort, the mysteriously titled Suburbicon, has started casting. In typical Clooney fashion, a handful of terrific actors have already felt the gentle tug of his magnetic forces and have already gathered, ready to do his bidding. Hit the jump for more on the Suburbicon cast.
According to The Wrap, Matt Damon, Julianne Moore, and Josh Brolin are currently in negotiations to star in the film, the plot of which is currently under lock and key. However, we do know that the screenplay was penned by Joel and Ethan Coen, the legitimate geniuses behind movies like Fargo and Inside Llewyn Davis, so this is Clooney's movie to screw up. Clooney tends to be a more-than-capable director when he's given the right material and while The Monuments Men may have shaken our confidence in him, a script from the Coen brothers may be just what he needs. If he brings those Good Night and Good Luck chops, Suburbicon will instantly become one of our most anticipated movies of whenever it decides to come out.
The news of Damon joining this film shouldn't come as a particularly huge surprise. He appeared alongside Clooney in the Ocean's 11 series and Syriana, and Clooney also directed him in Confessions of a Dangerous Mind and The Monuments Men. So of course he's in this. However, this will only be the second time Clooney has worked with Brolin – both of them headline Hail, Caesar! (the latest film from the Coen brothers, of course) next year. And unless you count Clooney's role as an executive producer on Far From Heaven, this will be his first time working with Moore, which just seems crazy. How have these two not shared the screen before?
The link that combines everyone here is their involvement in past Coen brothers projects. Clooney starred in O Brother, Where Art Thou? and Burn After Reading. Brolin was the quiet anchor at the heart of No Country For Old Men and the lunatic villain of True Grit. Damon was also in True Grit, playing the straight-laced foil to Jeff Bridges. Moore was, of course, Maude in The Big Lebowski. Clooney may be in the director's chair, but with this cast and those names on the screenplay, this is starting to sound more and more like Coen brothers movie and that is never a bad thing.
And because we like you and you to be happy (and because there's no more news to report), here's that scene from Burn After Reading where George Clooney shoots Brad Pitt in the face.