Eight New 'Star Wars: The Force Awakens' Images Are Here To Help Take The Edge Off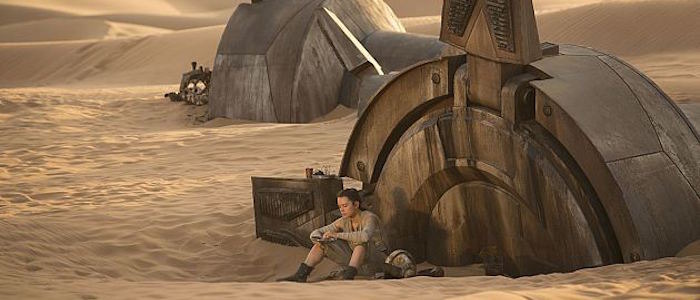 Hey, man. I hear you're looking for some new Star Wars images? A little birdie told me. You know, through the grapevine and such. Well, let's just say that I'm the man who can supply you with such things. I know some people will tell you that Star Wars: The Force Awakens opens in a little over a week and you should just wait, but they don't understand people like you and me, you know? You work hard. Your days are long. You deserve a chance to relax with a little hit of Star Wars. You need a daily fix. I get that. This is a judgment-free zone.
C'mon. Follow me after the jump and I'll show you some new fresh new images from Star Wars: The Force Awakens. I got some Kylo Ren. I got some Han Solo. I got a little something for all tastes. You're not wearing a wire, are you?
Could you shut the door behind you? Thanks. Don't want the wrong pair of eyes prying. The spoiler police are out in full force these days and if they catch even the slightest hint of anything new, they'll lose it. Get unruly. They're good folks at heart, but they just don't understand our pain. You're not allergic to the mildest of mild spoilers are you? My product doesn't contain anything that you haven't already seen in some capacity in the trailers, but if you want to back out now, this is your chance. Like I said: judgment-free.
You're sticking around? My man. Let me show you what's new. These just came in from Movie Jones and Collider.
First up we got ourselves an images of Oscar Isaac's Poe Dameron, in full X-Wing pilot gear, having a little moment with BB-8. Although the bulk of the marketing thus far has shown this adorable little fella chilling out with Rey and Finn, all of the toy packaging confirms that he's actually Poe's droid.
This second image is probably the one that's going to give you the biggest hit. Here's Adam Driver's Kylo Ren, Domhnall Gleeson's General Hux, and Gwendoline Christie's Captain Phasma doing their evil thing on the bridge of a Star Destroyer. We're not entirely sure who will actually live to see the next movie, but this image is one Andy Serkis away from showing off all of the new villains.
That brings us to another image of Daisy Ridley's Rey living a scavenger's life in the middle of the Jakku desert. In this case, she's resting in the shadow of an AT-AT walker's foot. At some point, Rey's adventures will take her to a forest planet where she'll get to chill with BB-8 for a little while, as seen in the next photo. These two must spend a lot of time together since they're always getting paired up for the toys.
You want something that will reignite a little nostalgia? I get that. How about another angle of a moment seen in the trailers, with Harrison Ford's Han Solo and Carrie Fisher's Leia having an emotional reunion? If that's not enough, I'll also toss in some Chewbacca. Everyone likes Chewbacca.
And finally, here's something completely new. You probably haven't seen this one before. How about the first official look at Billie Lourd, Carrie Fisher's daughter, playing a Resistance officer? There two things to note here. First, she's definitely wearing a fun riff on the iconic hairstyle her mother made famous in the original 1977 film. Second, that droid she's standing next to just looks awesome.
Star Wars: The Force Awakens opens on December 18, 2015.