Joshua Budich's 'Spaceballs' Posters Back On Sale, Spoofing Olly Moss 'Star Wars' Prints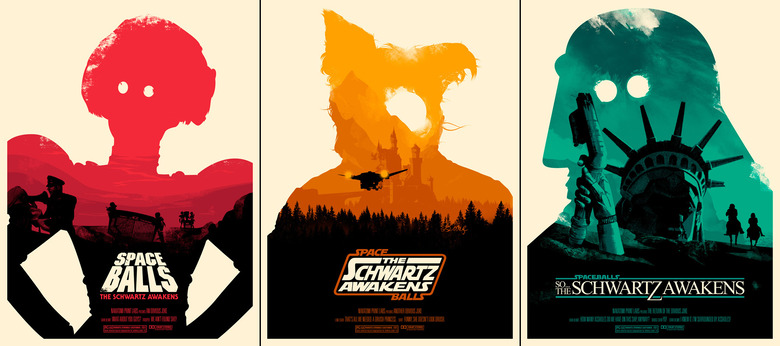 Update: We originally posted about these screen printed posters on December 8th 2015, and the set quickly sold out. Well Nakatomi has announced they are bringing the Josh Budich's sold-out three-print set back in a new OPEN edition, so if you missed out on these fast-selling prints last time, FORTUNE SMILES UPON YOU. Individual prints are $30 each, and full sets are $80. Orders should ship by the end of the month.
Our original post from December 8th 2015 follows:
If you're a fan of Star Wars then you're probably also a fan of the Mel Brooks parody Spaceballs. And if you're any sort of Star Wars fan then you've surely drooled over Olly Moss' awesome original trilogy poster set. Well Nakatomi Inc has teamed with artist Joshua Budich, who we've featured many times on /Film over the years, to create a parody of those wonderful posters using the Spaceballs universe. How funny is that? A series of Spaceballs posters which are a parody of a well known and respected set of Star Wars prints. Hit the jump to learn more about the Schwartz Awakens 3-print set from Josh Budich, see close up images of these fabulous prints, and also learn where and when you can get them.
The Schwartz Awakens 3-print set from Joshua Budich will be released by Nakatomi Inc on Wednesday December 9th 2015 at 2:00pm Central time.  All three posters will be available individually and as matched number 3-print sets (meaning the lower numbers will be held for the print sets, and those will have matching numbers).
"Ain't Found Shit"– 18×24 4-color hand-printed poster on natural paper.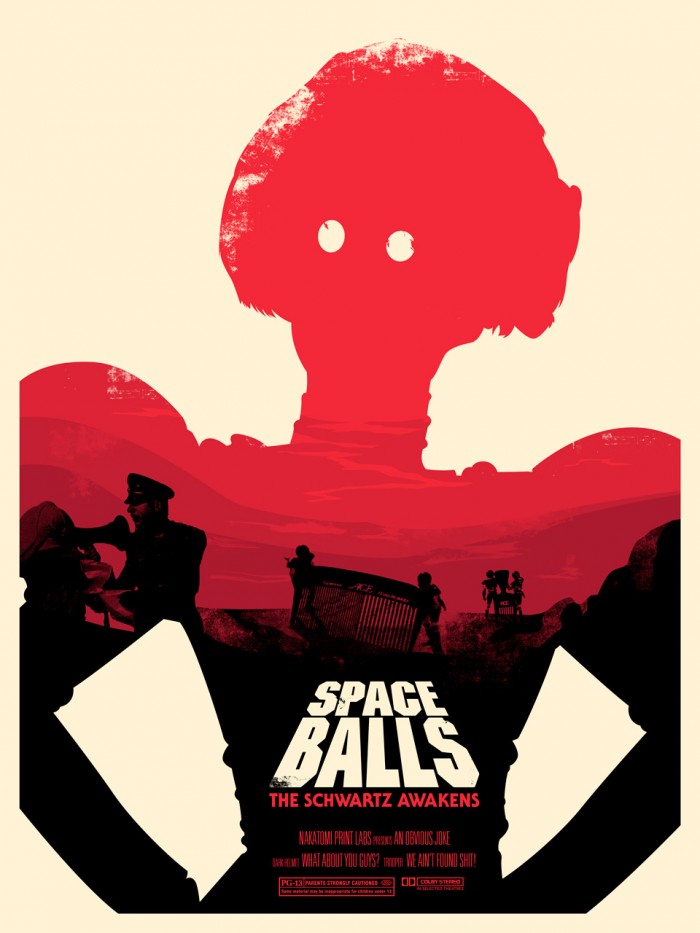 "Doesn't Look Druish"– 18×24 4-color hand-printed poster on natural paper.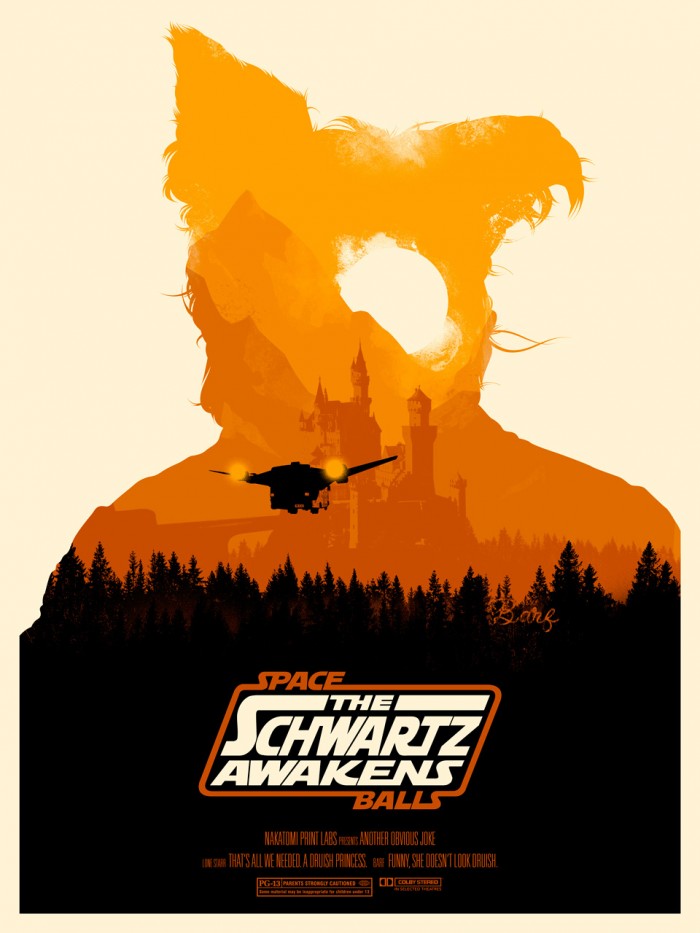 "There Goes The Planet"– 18×24 4-color hand-printed poster on natural paper.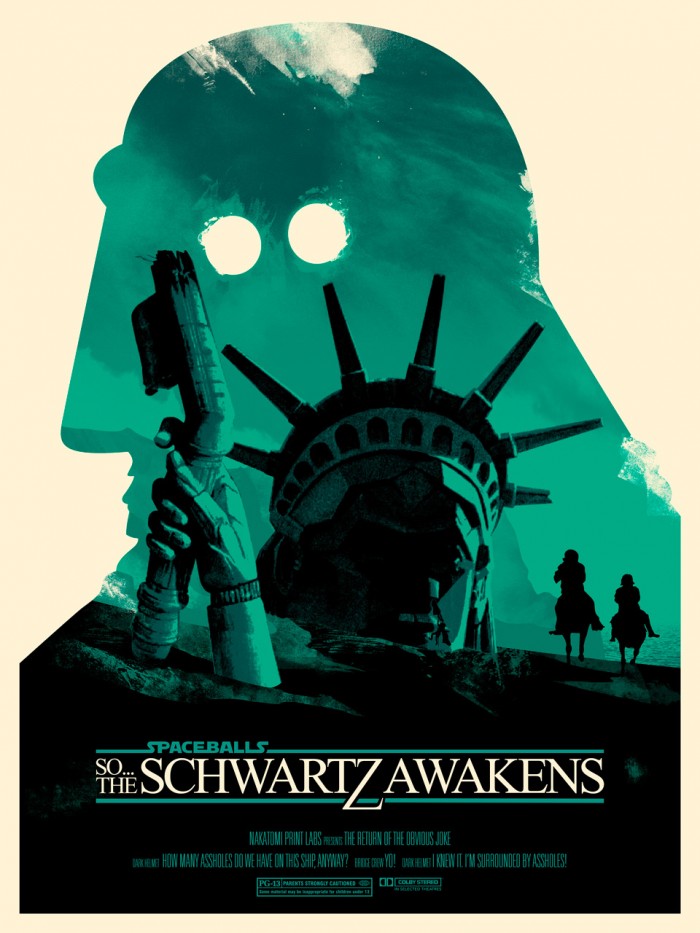 The individual prints will be available for only $30 each, and you can save $10 by purchasing the full set which will run $80. They are also selling a SUPER LIMITED irridescent FOIL set which will be hard to get, limited to just 30 full sets. those full sets will sell for $200 each. Here is a look at a mockup of what the foil variants will look like: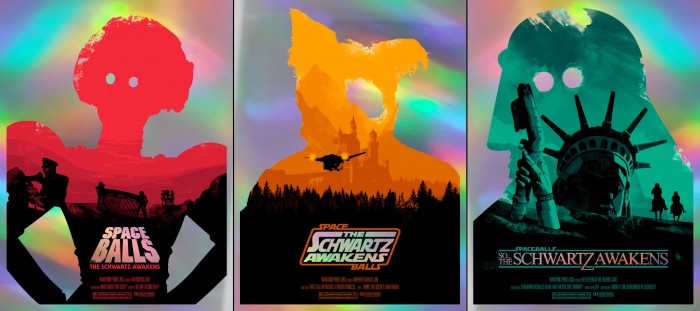 They will be printing these poster sets this week, and all orders will ship and be out the door by the end of the month (which means they could be a slightly late Christmas present for a lucky someone).
Here for comparison is the original Olly Moss Star Wars trilogy print set released by Mondo years ago: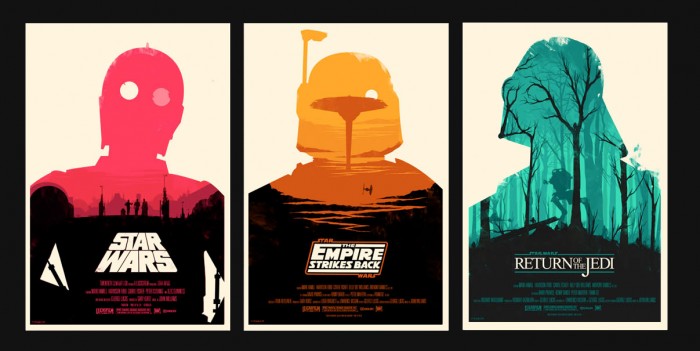 My friend Germain Lussier at IO9 was able to get Olly Moss' comments about the Spacebar parody set. Here is an excerpt:
"As an artist, you make your work and you push it out into the ether. People are free to react to it however they want. Whether that means they buy a print from you, or print it out themselves, or even adapt it into their own work,. [Parody] is not a price you pay. It's a reward you've earned. You were lucky enough to make something with which people connected, and it got a reaction. You can't police what that reaction is."..."But do I like these Budich posters? No, not particularly. When I look at them, I only see all the things I dislike about my originals. The things that I would go back and do differently (my sympathies for Mr. Lucas, here). But they're parody posters for a parody movie. It's a strong concept."