'Kingsman' Scene-Stealer Sofia Boutella Is 'The Mummy'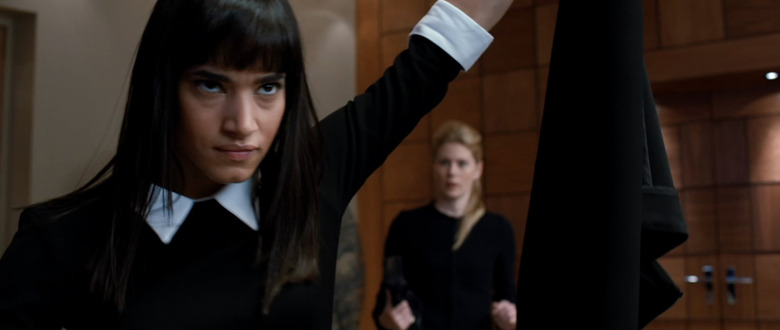 It's a tired habit to describe any reboot as "not your father's [insert name of property here]." But we can definitively say that Alex Kurtzman's upcoming The Mummy will not be your father's The Mummy. How do we know? Well, for starters, she'll be a woman.
The really great part, though, is which woman she'll be. Sofia Boutella, the scene-stealing henchwoman from this spring's Kingsman: The Secret Service, is in talks to take the title role in The Mummy opposite Tom Cruise. More on The Mummy Sofia Boutella casting after the jump. 
THR broke the Mummy Sofia Boutella news. TheWrap adds that while she has an offer, negotiations with studio Universal are still in the early stages. Some reports suggested Cruise will play a Navy SEAL, but Kurtzman has insisted otherwise. In any case, we do know it'll take place in the modern day. Other details on The Mummy script, by Jon Spaihts, are still wrapped up in bandages.
Word that The Mummy was considering a female lead first got around last fall. Kurtzman and Spaihts reportedly came up with two versions of the Mummy story — one featuring a male Mummy and the other featuring a female Mummy. The plan was to meet with both male and female actors for the part, and make a decision after that. Boutella follows Boris Karloff, who played the Mummy in the 1932 movie, and Arnold Vosloo, who played him in the 1999 remake and its sequel.
Universal envisions the new The Mummy as the start of its own Marvel-style Universal Monsters shared universe (sorry, Dracula Untold), and has already locked in a March 24, 2017 release date. Next up will be The Wolf Man, set for March 30, 2018. Reimaginings of Frankenstein, Bride of Frankenstein, the Invisible Man, Dracula, and Van Helsing are also in the works.
Although Boutella had appeared in a few things before Kingsman: The Secret Service, her mesmerizing turn as the blade-legged Gazelle kicked her career up to the next level. She quickly booked a role as an alien in Star Trek Beyond, due out next year. She also recently joined Charlize Theron and James McAvoy in the Cold War thriller The Coldest City, from John Wick co-director David Leitch.
Revisit Boutella in her breakout role below:
Or for an even more concentrated dose of Boutella awesomeness, check out her Nike ad: