Cool Stuff: Hot Toys Rey And BB-8 Sixth Scale Collectible Figure Set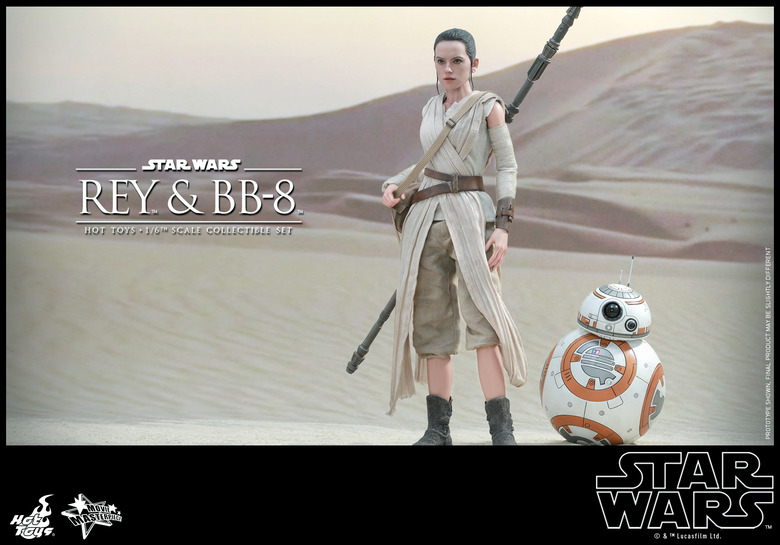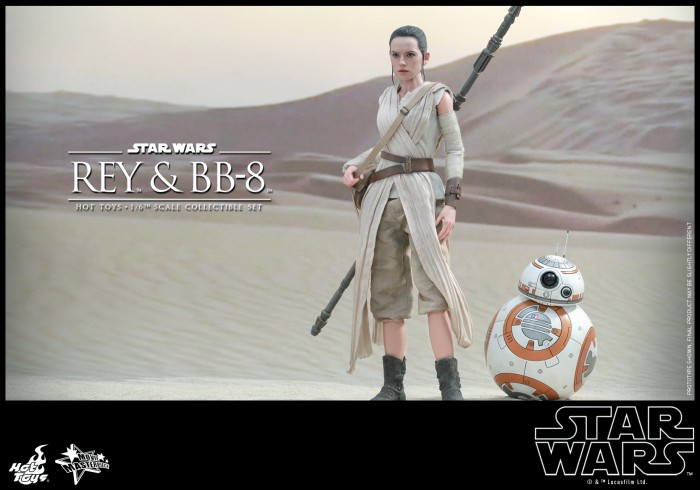 Its no secret, we love Hot Toys. And their Star Wars line of sixth scale collectible figures and environments are unmatched. The latest announcement of a 1/6th scale collectible set of Rey and the lovable droid BB-8 from Star Wars: The Force Awakens was mentioned in Star Wars Bits but i wanted to take a closer look at these new figures. Hit the jump to learn more about the Hot Toys Rey and BB-8 Sixth Scale Collectible figure set.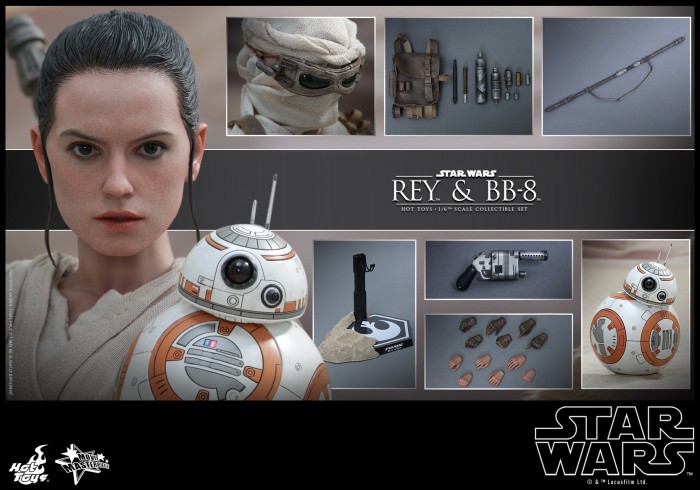 Here is an official description from Hot Toys:
Our new heroine Rey is a resilient survivor, a scavenger toughened by a lifetime of dealing with the cutthroats of the harsh desert world of Jakku. We are sure Star Wars fans are anxious to see where the journey will lead for Rey and her newfound droid. The highly-accurate Rey collectible figure is specially crafted based on the image of Daisy Ridley in the film featuring a newly developed head sculpt with fine hair sculpture, two interchangeable looks, meticulously tailored outfit, highly detailed accessories, and a hexagonal figure stand with the Resistance's emblem. The highly accurate BB-8 collectible is specially crafted on the image of the unique designed droid in Star Wars: The Force Awakens. It features a newly developed spherical body embedded with self-balancing mechanisms, LED light up eyes, and a specially designed Jakku desert-themed figure base attachable to Rey's hexagonal figure stand.
The Rey figure features authentic and detailed likeness of Daisy Ridley, and looks almost photo real creepy. The newly developed head sculpt comes with highly-accurate facial expression and make-up, Interchangeable head with head wrap and goggles, a body with over 28 points of articulations.
As with any Hot Toys release, there are a ton of accessories: eight pieces of interchangeable palms with and without gloves including: a pair of fists, relaxed palms, palms for holding staff, palms for holding blaster, her costume includes a beige colored top, beige colored wrap dress, a pair of beige colored arm wraps, a detachable left shoulder pad, one leather-like left wrist cuff, a brown colored belt with pouch, a pair of beige colored pants and a pair of dark grey colored boots. Weapons include a staff with strap and a blaster pistol. She also comes with a leather-like backpack with accessories and a Resistance emblem hexagonal figure stand with Rey nameplate and Star Wars logo.
The BB-8 comes with a newly developed spherical body embedded with self-balancing mechanisms, featuring Metallic white, silver and orange painting, LED light up eyes (white light, red and blue lens, battery operated). He stands approximately 11cm tall.
I'm very excited to own a sixth scale BB-8 but I'm kind of disappointed with the paint job on this droid after having seen the real one in person. I know this is just a prototype but it seems too clean, lacking any of the weathering effects seen on the droid from the film. Also is it just me or does it look too smooth, lacking ridges of any kind. The metal parts also don't look much like metal, and its also disappointing that there are no light up features in the ball section as there are in the actual puppeteer prop.
The set will hit stores sometime in Quarter 2 or 3 of 2016.