'Red Mars' TV Series Coming To Spike From 'Babylon 5' Creator J. Michael Straczynski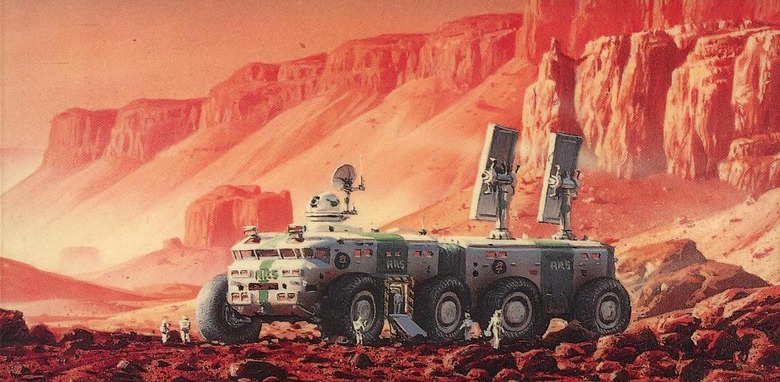 J. Michael Straczynski's latest sci-fi series was the earthbound Sense8, but the Babylon 5 creator is shooting back off into outer space with his next one. He's set to write and executive produce Red Mars for Spike, based on the award-winning Mars trilogy novels by Kim Stanley Robinson. More on the Red Mars TV series after the jump. 
Spike announced the Red Mars TV series today via press release. The network has already given the project, to be produced by Skydance, a straight-to-series order of ten one-hour episodes. Vince Gerardis (Game of Thrones) brought the property to Spike and will executive produce along with Straczynski. Also on board are Skydance's David Ellison, Dana Goldberg, and Marcy Ross. Robinson will serve as a consultant.
The Mars trilogy consists of three books: Red Mars (published in 1993), Green Mars (1994), and Blue Mars (1996). There was also a collection of short stories set in the same universe published in 1999, titled The Martians. The novels have been critical and popular hits. They've been translated into 21 languages and have won a slew of prestigious awards including the Hugo and Nebula prizes.
Here's how Spike describes the plot of the TV series:
"Red Mars" follows the first settlers charged with terraforming a mysterious planet, all of whom have competed to be a part of the mission. The series delves into the lives of these relative strangers, cut off from everything they've ever known and living in the harshest environment imaginable. Over time, viewers will witness the mind-blowing evolution of humans and technology as they learn to adapt in their inhospitable new home.
Spike has traditionally been known for unscripted guy-oriented programming (e.g., Bar Rescue and Ink Masters), but the network has been trying to break out of that box. It's gone after a more gender-balanced audience with shows like Lip Sync Battle and this summer's miniseries Tut. Red Mars should fall right in with those rebranding efforts. Touted as "the most ambitious project in network history," it'll be Spike's first scripted original drama in nine years.
Red Mars will enter production in summer 2016 for a January 2017 debut. That's a long time to wait, so in the meantime, why not get caught up on Straczynski and the Wachowskis' Sense8? It's just sitting there on Netflix, waiting for you to discover it.