'The Good Dinosaur' May Ruin Pixar's Profitable Box Office Performance Record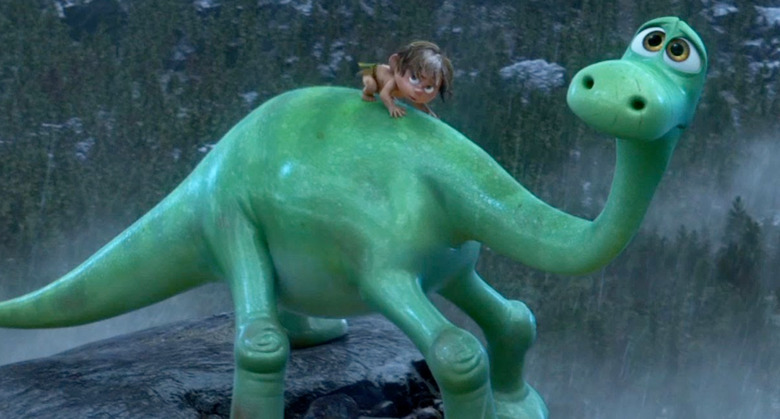 It looks like The Good Dinosaur is about to do something unprecedented for Pixar Animation, but it's not something to be happy about. Analysts believe the Thanksgiving release from the revered animation studio is shaping up to be their first box office failure, as the film just doesn't seem to be garnering the interest from audiences that Pixar films normally do. The film isn't exactly bombing at the box office, but it is underperforming. Get the details below.
Variety has word on The Good Dinosaur box office performance with Erik Handler, an analyst at MKM Partners saying:
It's not resonating like a typical Pixar film. It's on a path where they're going to need home entertainment to drive profitability. Usually with Pixar, by the time they've gone through the first [release] window, they're in the black.
And considering this is a movie that got a prime Thanksgiving weekend opening when families usually head to theaters, that's not a good sign. The movie took second place to The Hunger Games: Mockingjay – Part 2 that weekend (which was a little surprising), raking in just $39.1 million. Even more indicative of The Good Dinosaur's fast fade at the box office was its second weekend, when the movie fell more than 60% in ticket sales, landing just $15.5 million. Pixar movies usually slide by less than 50% in their second weekend.
The film currently has $131.3 million in global box office receipts, having opened in about 59% of the international markets. That has analysts saying that the film may not even crack $400 million, which would put it on par with Pixar's lowest grossing film, A Bug's Life, which made just over $363 million in 1998. And since they also estimate The Good Dinosaur must make about $500 million to break even for Disney, you can see why things aren't looking so great.
So why is The Good Dinosaur not appealing to audiences? Well, many seem to be pretty lukewarm on the movie. While there's endless praise for the positively gorgeous animation, many have found the movie to be a step back in quality for Pixar. The story is heartwarming for sure, but it's also fairly derivative, and just not on par with the kind of original story telling we've come to expect from the animation studio.
With 76% on Rotten Tomatoes, the movie is also one of Pixar's lowest-rated films to date. The only movies that rated lower were Cars 2 at 39% and Cars at 74%. Just above The Good Dinosaur are Brave and Monsters University, both at 78%, and also not among Pixar's best. Plus, when you consider how much people loved Inside Out this past summer, it's easy to see why Pixar fans might be disappointed after being wowed by the emotional mind adventure.
Keep in mind that these are just projections though, and the movie still has to open in some major markets like Brazil, Japan and Korea. Disney will keep The Good Dinosaur in theaters through Christmas, so maybe families who haven't seen it yet will seek it out. After all, the only other straight-up family film will be Alvin and the Chipmunks: The Road Chip, and I'd just as soon watch Cars 2 again while getting slapped in the face the whole movie than sit through that abomination. But Disney's release of Star Wars: The Force Awakens might make it difficult for The Good Dinosaur to get any more attention.
At the end of the day, Pixar was bound to have a failure like this at some point, so while this may be disappointing, it's certainly not the end of the world. Much like the dinosaurs in Pixar's prehistoric adventure, the animation studio will live on.