Alamo Drafthouse Is Having An Insane 'Star Wars' Marathon Contest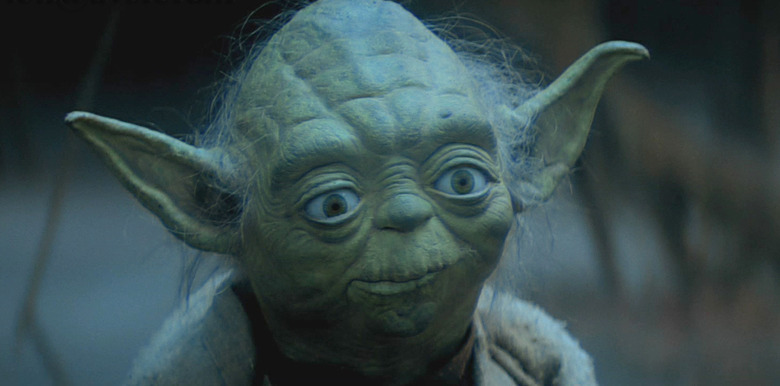 We're just 10 days from the first showings of Star Wars: The Force Awakens, and our patience is growing thin. But as Master Yoda says, "Control, control, you must learn control." And some Star Wars fans are going to really have to be one with the Force if they're going to survive a crazy new Star Wars marathon contest that the Alamo Drafthouse is putting on later this month.
You might think that a Star Wars marathon sounds easy, but this one is likely going to get exhausting after awhile. Get the details on the Star Wars marathon contest after the jump!
Seven die-hard Star Wars fans will be asked to participate in a never-ending Star Wars movie marathon that starts at 4am on December 17th. That's right, never-ending. So how will that work? Well, the seven pre-selected fans will be seated at the Alamo's South Lamar location (not the new Star Wars theater in Nebraska) to watch the first six Star Wars movies in sequential order. That's a little over 13 hours, so no big deal, right?
After that, they'll get to watch Star Wars: The Force Awakens for the first time. And then they'll get to watch it again and again and again until only one fan is left as the Chosen One. Here's what Alamo Drafthouse founder and CEO Tim League had to say about the contest:
At Alamo Drafthouse we're big fans of STAR WARS and testing the boundaries of human endurance. What better way to anoint the ultimate super fan than inviting them to watch these remarkable films on the big screen until they drop? Literally.
Indeed, watching the first six Star Wars movies by themselves will be a bit daunting before The Force Awakens (that's what I'm doing on December 17th in theaters), but sitting through Episode VII over and over again for an undetermined period of time is really going to be the tough part. Hopefully the movie is actually good so it doesn't feel so hard the first few times.  If they really wanted the contest to be harder, they should make everyone sit through the prequels over and over again, but then barely anyone would want to participate.
So what does the last man standing win? They'll get a prize package that includes a seven-year pass to Alamo Drafthouse theaters, a complete set of 2015 and 2016 Topps Star Wars Card Reader cards, a selection of mega-rare Star Wars prints from Mondo, and a theater seat named in their honor, complete with a special naming ceremony.
How can you try to be one of the seven participants? Just show your love for Star Wars through Instagram, Twitter and Facebook by using the hashtag #AlamoJedi. Show off your insane toy collection, your sleeve tattoo, your Chewbacca-dressed-as-Princess-Leia cosplay and anything that shows that you're the ultimate fan of Star Wars who deserves to be in this contest.
Get all the rules for the contest right here, and if you try to enter, may the Force be with you.