Josh Hutcherson Joins James Franco's 'The Disaster Artist', About The Making Of Tommy Wiseau's 'The Room'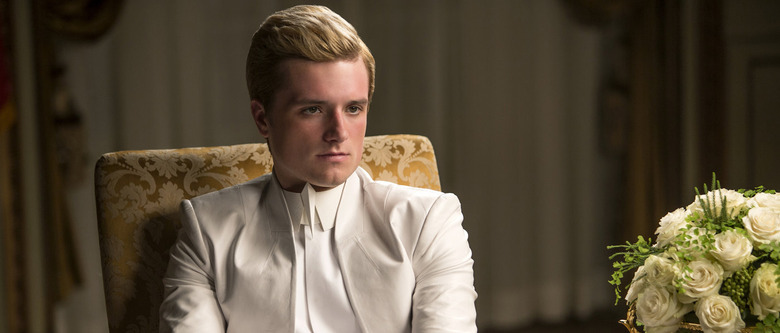 After spending much of The Hunger Games: Mockingjay – Part 2 evading explosives and monsters, Josh Hutcherson is getting ready to deal with catastrophe of another kind. He'll join James Franco, Dave Franco, and Seth Rogen in The Disaster Artist, about the making of Tommy Wiseau's The Room, widely considered one of the worst movies ever made.  
The Disaster Artist is based on the 2013 book by Tom Bissell and Room star Greg Sestero. Scott Neustadter and Michael H. Weber ((500) Days of Summer, The Fault in Our Stars) wrote the script. James Franco will direct as well as star as The Room writer / director / producer / star Wiseau. Rogen is producing with Evan Goldberg and Vince Jolivette. The Disaster Artist is described as "a buddy comedy about two outsiders who embark on a delusional journey to make their dreams come true."
Released in 2003, The Room follows a banker named Johnny whose fiancée, Lisa, cheats on him with his best friend Mark. But that logline hardly scratches the surface of the strangeness that is The Room. As one article put it, "Tommy Wiseau doesn't just make some mistakes; he makes every mistake." There are subplots that go nowhere, dialogue that makes no sense, and stilted performances from first-time actors. But it is, in its own awful way, unique, and over the years it's picked up a big cult following among connoisseurs of so-bad-they're-good movies.
Dave Franco will play Sestero, who starred as Mark in The Room. Rogen's role has not been revealed. Hutcherson will play Philip Haldiman, who played Denny, Johnny and Lisa's college-student neighbor who harbors a crush on Lisa and has a run-in with a drug dealer. Here is Haldiman doing his thing in The Room:
The Disaster Artist will mark Hutcherson's third time being directed by Franco. The two also worked together on In Dubious Battle and The Long Home, both of which have already wrapped but have not yet hit theaters. Hutcherson, who is coming off of the last installment of the Hunger Games franchise, also has another Journey to the Center of the Earth movie coming up in his not-too-distant future.
Shooting on The Disaster Artist begins this week in Los Angeles. New Line will distribute, but no release date has been announced. Until then, relive the original The Room with the gloriously terrible trailer below.