10 Things We Learned At The 'Star Wars: The Force Awakens' Press Conference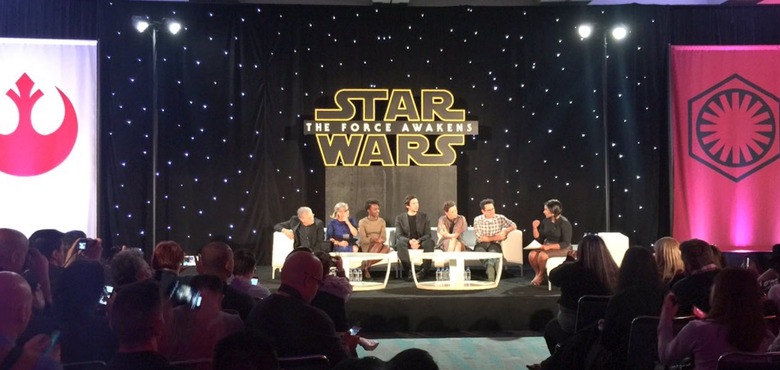 Update: After the jump we've included a video of the entire Star Wars: The Force Awakens press conference, which actually contains a bunch of funny moments we didn't talk about in our original information-focused report.
Here is the video from the Star Wars: The Force Awakens Press Conference:
My original report from December 7th 2015 follows:
The Star Wars: The Force Awakens press junket was held in Los Angeles over the weekend under a ton of secrecy. Press covering the event did not screen the movie or even footage, something very unusual for a movie of this size. In fact, journalists weren't told the address of the junket until two days prior and were advised to turn off the geotagging on their cellphone cameras to preserve the secrecy of the location from those tech-savvy enough to find that information in an Instagrammed or tweeted image.
At the event, I had one-on-one interviews with director J.J. Abrams and producer and Lucasfilm head Kathleen Kennedy (you'll read my coverage later this week). I also attended the Global Press Conferences moderated by comedian Mindy Kaling featuring Harrison Ford, Carrie Fisher, John Boyega, Daisy Ridley, Oscar Isaac, Adam Driver, Lupita Nyong'o, Gwendoline Christie, screenwriter Lawrence Kasdan, J.J. Abrams, and Kathleen Kennedy. (Mark Hamill was noticeably absent from the entire press event for obvious reasons.) No huge news came out of the two conferences, but I thought I'd round up the interesting bits for you. Hit the jump to find out what I learned from the Star Wars: The Force Awakens global press conference.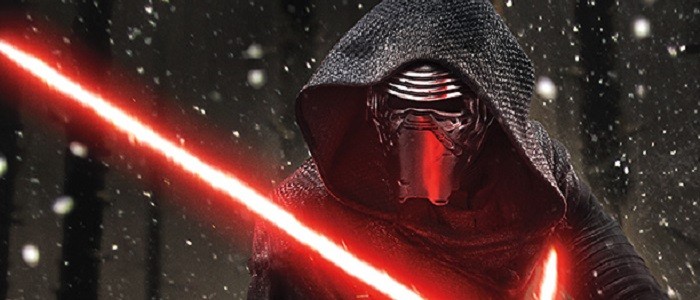 Kylo Ren Is Different From Any Other Character in Star Wars History: Screenwriter Lawrence Kasdan claims that "there has never been a character like Kylo Ren in the [Star Wars] saga." The writer explained that Ren "doesn't have his shit all together" and that "you're getting all the contradictions and conflicts that people feel. That's what's unique about what Adam has done." Adam Driver agrees and elaborates on the character calling him "very unpolished and unfinished." Driver later added that Ren is someone who feels morally justified in what he's doing, which he believes is a lot more scary than a traditional villain.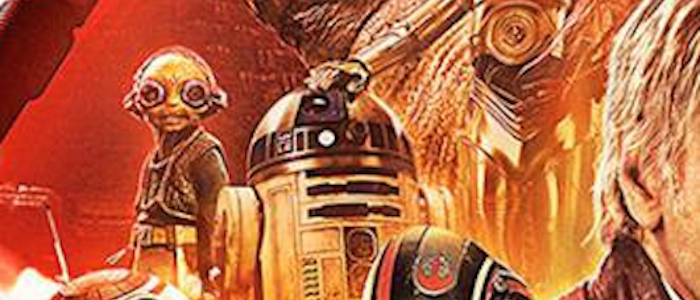 Were Maz Kanata and Yoda Friends?
J.J. Abrams says he believes that Lupita Nyong'o's performance-capture computer-generated character Maz Kanata (who is a small and sizable character in her own right) at one point in the past crossed paths with the the tiny Jedi master:
"I do believe that Maz and Yoda, at some point, crossed paths. But that is not something that happens in this film."
Of course, since this isn't explored in the film, I'm guessing it might be explored at some point in a novel or comic book adding to the mythology of the new character.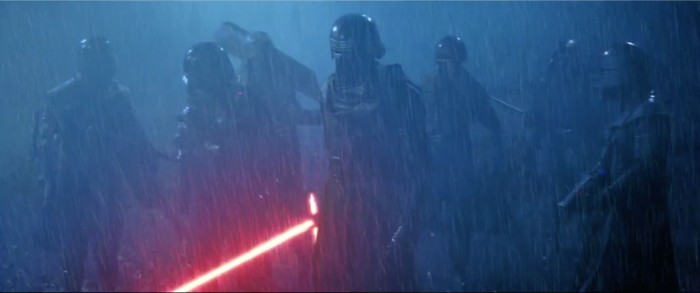 No Living Ewoks
Someone at the press conference asked if any Ewoks appear in the film. The question comes about because we see Kylo Ren has come into possession of Darth Vader's helmet, last seen on the forest moon of Endor at the end of Star Wars: Return of the Jedi. Another shot in the trailer shows Kylo Ren, flanked by (probably) the Knights of Ren in the rain with barely visible dead bodies scattered in the background. Some fans have analyzed the shot and come to the conclusion that this must be a scene where Kylo and the knights of Ren slaughter a bunch of Ewoks to retrieve this Sith relic. Add in the fact we know Warwick Davis, who played Wicket the Ewok, appears in the film in an undisclosed role. When someone at the press conference asked "Are there Ewoks in the movie?" Abrams played into the theories with his quick response: "Living?" which was met with some laughs and a couple groans.
"Can a man not joke with friends?" Abrams responded. "No, he says, there are no Ewoks in this film."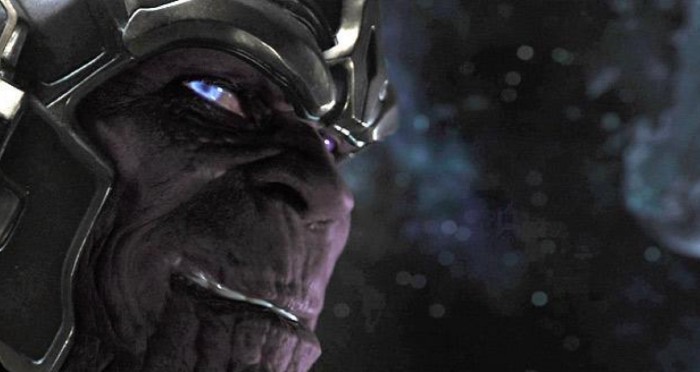 No Post-Credits Scene
Post credits scenes are nothing new, but in recent years the Marvel Studios movies have contributed to the rise of popularity of "button" scenes. And as you know, Disney is trying to emulate Marvel in some ways with the expansion of the Star Wars universe, which made some people wonder if the new Star Wars films might feature teasery buttons at the end of the films to entice fans for what's to come. Director J.J. Abrams says there is no mid- or post-credits scene in The Force Awakens, so you don't have to stay in your seat until the very end if you don't want to.
"No, there is not," confirmed Abrams. "All the scenes are in the movie."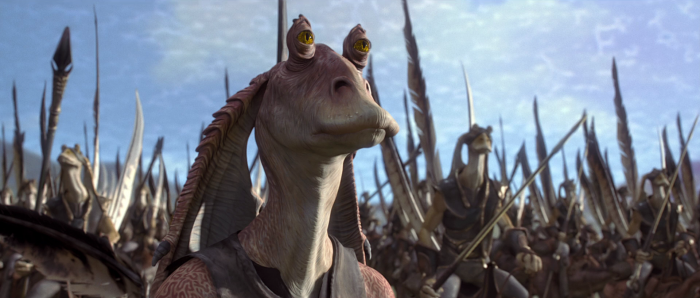 Jar Jar Binks Is Missing
When jokingly asked about what isn't in the movie (since she couldn't talk much about the movie details), Kathleen Kennedy confirmed that Jar Jar Binks is not in the movie. So those ridiculous theories – including one that Oscar Issac personally loves, claiming Jar Jar Binks may be the person under Kylo Ren's mask — will have to end here.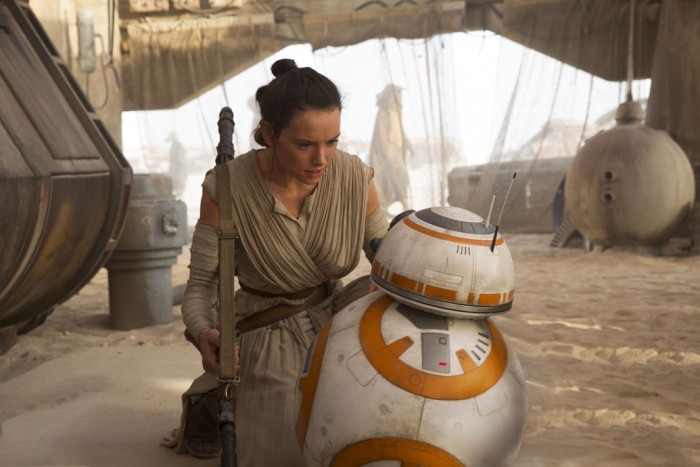 Some Character Names Came Easier Than Others
Lawrence Kasdan explained that the only criteria for naming the new characters were did they like it, did it feel good to say and type. Apparently the names of Rey, Finn and Poe Dameron went through many iterations but BB-8, Kylo Ren and Maz Kanata found their names very early on, with BB-8 being the only name for the new circle droid.
"A lot of names came and went, and some stuck," said Kasdan. "I remember when we put down BB-8, it was the first and only name that droid had. Rey, Finn, and Poe went through many iterations. Kylo Ren and Maz Kanata were there very early on."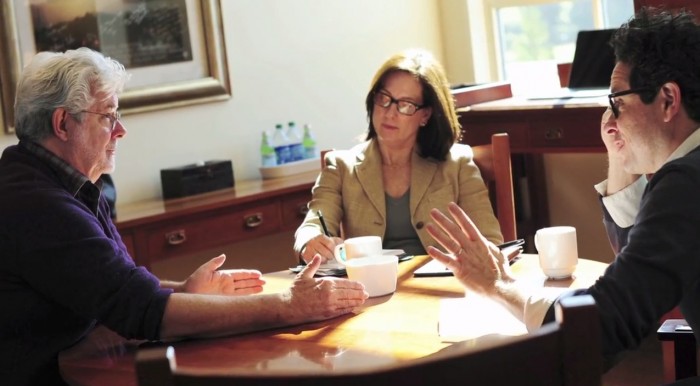 The Sequel Trilogy Isn't Completely Planned
Kathleen Kennedy was asked about how the future of the franchise was planned and admitted that "We haven't mapped out every single detail yet, but obviously everybody is talking to one another, working together, and that collaboration is going to guarantee that everybody has a say in how we move forward with this." She went on to reveal that J.J. [Abrams] and Rian [Johnson] already talk at length."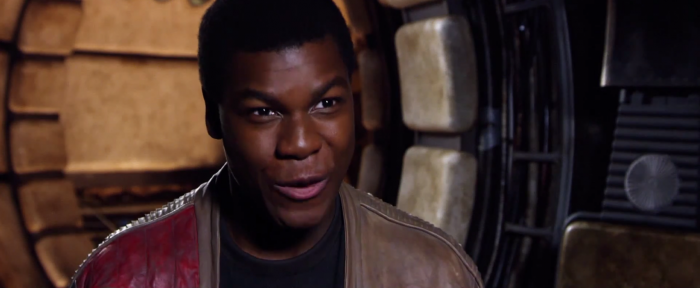 John Boyega Returning for Episode VIII?
While we pretty much assumed all three of the new main characters (Rey, Finn and Poe) would be returning for the next chapter in the series, Lucasfilm head Kathleen Kennedy seemed to hint that at very least Boyega would return. After talking about the future of the Star Wars saga (see above), Kennedy, who sat alongside Boyega, patted the actor on the back as she said "these guys are getting ready to head over in January" to film Episode VIII.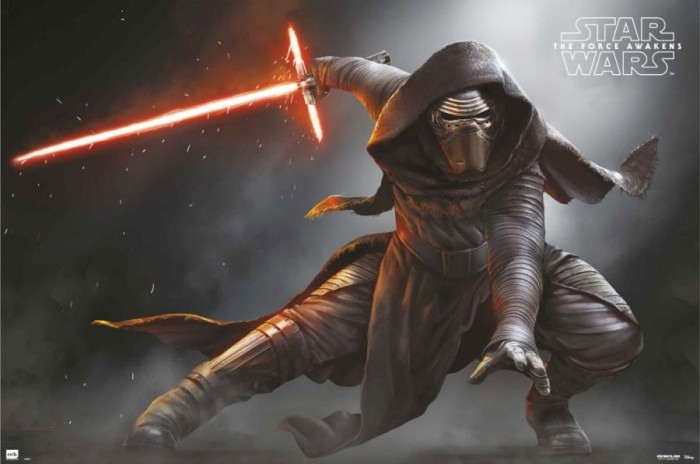 It Took a While for Kylo Ren to Suit Up
Oscar Issac Created Poe Dameron's Backstory
After they began filming, Oscar Issac came up with a backstory for his character Poe Dameron. The actor believed that his character could have been born on Yavin IV and his parents could have been fighters in the original Rebellion. This is an idea he spoke publicly about at 2015 San Diego Comic Con  International. Lucasfilm used that and ended up revealing that backstory in the comic book miniseries Star Wars: Shattered Empire.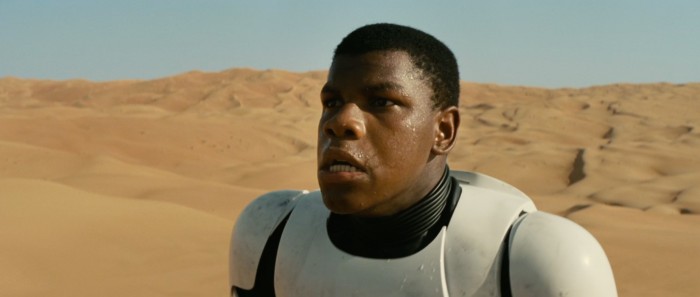 We May Not Find Out Finn's Backstory, At Least Not in This Film
When asked about the backstory for Finn, John Boyega recalled a screen test he did with his co-star Daisy Ridley where he said to her:
"There's no way that our stories are so simple"
Boyega went on to apologize to Kathleen Kennedy who was sitting next to him but admitted:
"And we still don't know! So I've still got some conspiracy theories as a fan as to where Finn comes from and I'm still trying to figure that out, but I like that it's a mystery."
This might also suggest that Ridley's character's possible heritage is also not revealed in this film. Later in the conversation Boyega mentioned he loved the fan theory that Finn is Mace Windu's grandson and enthused about an encounter he had with Samuel L. Jackson at a party.