Watch Eight Minutes From Quentin Tarantino's Western 'The Hateful Eight'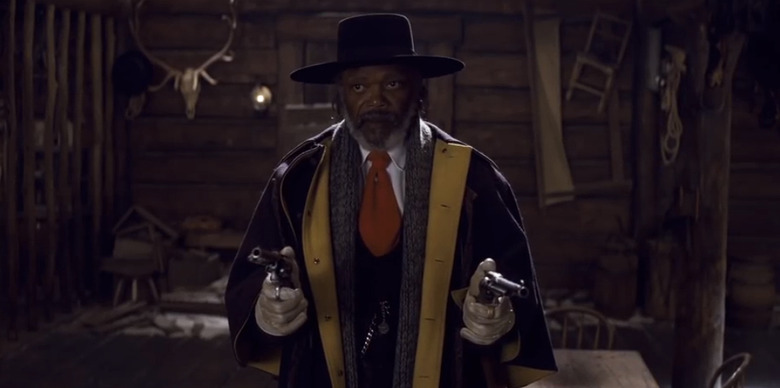 Even though plenty of people are anxious to see Star Wars: The Force Awakens in 12 days, let's not forget that one week later we'll get to see another of the highly anticipated films of 2015. Quentin Tarantino has his eighth film getting a unique release beginning on December 25th with The Hateful Eight getting a 70mm roadshow release (with specific location details yet to be officially revealed) that includes extra footage and an intermission.
But if you're a little impatient, you can watch eight minutes of The Hateful Eight clips right now to hold you over until Chtistmas gets here. It certainly won't look as good as it will on a 70mm projection, but it's the best we can do.
Here are eight The Hateful Eight clips from JoBlo:
Even though the film may be facing a boycott from the NYPD after Quentin Tarantino got involved with some protests rallying against cases of police brutality in New York City, the early buzz from critics who have been attending advanced screenings is more than good. Mike Ryan from Uproxx said, "The Hateful Eight is one of those movies that's really great on first viewing, and will be about a thousand times better the second time." And David Ehrlich from Rolling Stone said, "The Hateful Eight is like The Thing took the form of an early John Ford movie and holy hell is it great."
The roadshow experience has also been praised by those who have seen it early, and that seems to be the best way to see the movie. We're still waiting on details about the roadshow rollout, but the website In70mm.com has some unofficial details culled from people calling local movie theaters and whatnot, so check out that link for details.
It may not be 100% accurate, but it's the best we've got for a list of places that will have The Hateful Eight in 70mm. Remember that not all of those locations will necessarily have the roadshow experience, so make sure you confirm with your local theaters before buying tickets.
In the meantime, you can watch the latest trailer right here.
In THE HATEFUL EIGHT, set six or eight or twelve years after the Civil War, a stagecoach hurtles through the wintry Wyoming landscape. The passengers, bounty hunter John Ruth (Kurt Russell) and his fugitive Daisy Domergue (Jennifer Jason Leigh), race towards the town of Red Rock where Ruth, known in these parts as "The Hangman," will bring Domergue to justice. Along the road, they encounter two strangers: Major Marquis Warren (Samuel L. Jackson), a black former union soldier turned infamous bounty hunter, and Chris Mannix (Walton Goggins), a southern renegade who claims to be the town's new Sheriff.
Losing their lead on the blizzard, Ruth, Domergue, Warren and Mannix seek refuge at Minnie's Haberdashery, a stagecoach stopover on a mountain pass. When they arrive at Minnie's, they are greeted not by the proprietor but by four unfamiliar faces. Bob (Demian Bichir), who's taking care of Minnie's while she's visiting her mother, is holed up with Oswaldo Mobray (Tim Roth), the hangman of Red Rock, cow-puncher Joe Gage (Michael Madsen), and Confederate General Sanford Smithers (Bruce Dern). As the storm overtakes the mountainside stopover, our eight travelers come to learn they may not make it to Red Rock after all...
The Hateful Eight starts hitting theaters on December 25th.