Go Behind The Scenes Of 'Star Wars: The Force Awakens' With New "Legacy" Featurette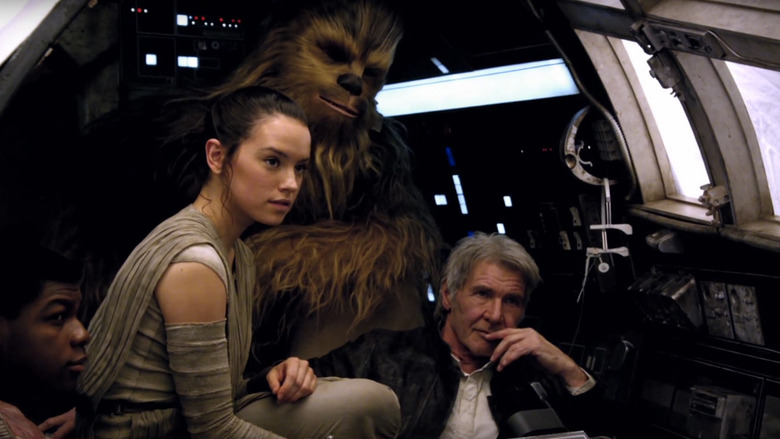 We've gotten just about all the footage from Star Wars: The Force Awakens that we can handle, and with just about 12 days left until the film is unleashed in theaters everywhere, I'd be fine if there wasn't another minute from the film posted. After all, we've already seen a total of six minutes from the film, and that barely shows anything beyond the first half.
The good news is that we have something to hold you over for the next dozen days, and you don't even have to see any new footage that hasn't been seen in the previous trailers. The Force Awakens Legacy featurette goes behind the scenes of the production with footage of scenes being shot and talking heads from all the right people. Watch!
Here's the Star Wars: The Force Awakens Legacy featurette from the Star Wars YouTube channel:
This is a featurette akin to the one that was released at Comic-Con this past summer, and it even features some shots that were used in that sizzle reel. But most of the footage from the set of The Force Awakens is new, including the young new heroes played by Daisy Ridley, John Boyega and Oscar Isaac, as well as old heroes played by Harrison Ford, Peter Mayhew and yes, Mark Hamill (there's no Carrie Fisher this time).
It's the new cast members that have some particularly great moments. Isaac particularly has an amazed look on his face as he and director J.J. Abrams check out what they just shot on a monitor. Boyega goes wild when he sees the full scale Millennium Falcon in front of him, and there's even a great shot of Ridley looking on at Harrison Ford in adorable awe.
Plus, we get to see that moment where Boyega had Ford sign that big action figure of Han Solo in Stormtrooper gear. I hope there's a featurette focusing on just that moment whenever The Force Awakens ends up hitting
Blu-Ray and DVD.
Stick around for the last 15 seconds to get that quick glimpse of Mark Hamill at the end talking about returning to the Star Wars franchise. Take your time and see if you can pick up any clues about the set on which this particular talking head was shot. That's probably about all we're going to see of Hamill in any promotional materials since his time and participation in The Force Awakens is still being kept under tight wraps.