Four Featurettes Focus On The Intense, Real Stunts Of The 'Point Break' Remake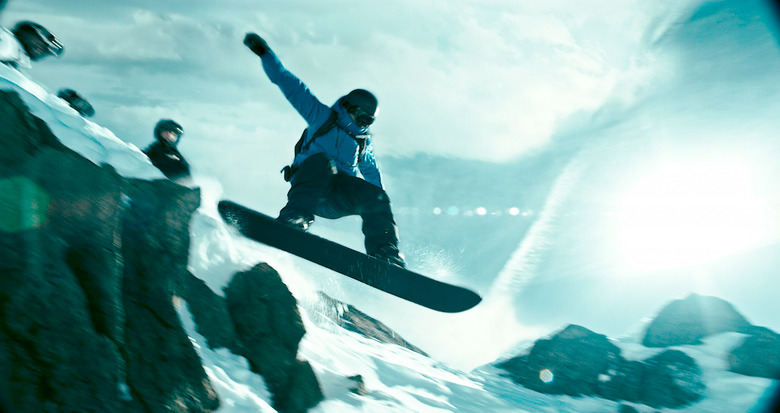 It may be awards season right now, bringing plenty of heavy dramas that will be vying for a variety of trophies over the next couple months, but there will be at least one option for movie goers just looking to turn of their brain for a couple hours.
Point Break is a remake of the beloved 1991 modern classic action thriller starring Patrick Swayze and Keanu Reeves, updating the story of FBI agent Johnny Utah (Luke Bracey) sent undercover to infiltrate a group of extreme athletes, led by the charismatic Bodhi (Edgar Ramirez), pulling off a series of heists, using their unique skills to their advantage. And now four featurettes show off the impressive, real stunts of the movie arriving this Christmas.
Here are the Point Break featurettes focusing on snowboarding, surfing, motocross and wingsuit flying:
At the very least, it looks like the stuntwork is going to be something to behold on the big screen with scenes taking place in rance, Italy, Austria, Switzerland, Venezuela, Canada and the United States. However, reviews say the movie doesn't measure up to the original with the culprit being a weak screenplay. Variety's review of Point Break says:
"Having cut his teeth lensing fast-track blockbusters like "The Fast and the Furious" and "Payback" before helming "Invincible," [Ericson] Core, who also doubles as d.p. here, has poured his expertise into devising jaw-dropping stunts and visualizing awesome natural wonders. But the sense of living dangerously is somewhat lacking as Kurt Wimmer's emotionally vacant screenplay fails to make audiences care enough about the characters to sweat over their physical exertions.
The sheer range of sports represented here through whiz-bang stunt choreography, all performed by champions in their field, may satisfy today's attention-deficient audiences. For others, however, excitement will soon turn to overkill, and the level of tension dips considerably toward the end."
At the very least, Point Break might be a nice escape for a father and son trip to the movies where you can both just enjoy some sweet action, even if the story doesn't quite deliver anything worthwhile. But then again, maybe you should just stay home and watch the original, or go see Star Wars: The Force Awakens again. If you want to see more from Point Break, check out the most recent trailer right here.
In Point Break, a young FBI agent, Johnny Utah (Luke Bracey), infiltrates a cunning team of thrill-seeking elite athletes – led by the charismatic Bodhi (Edgar Ramirez). The athletes are suspected of carrying out a spate of crimes in extremely unusual ways. Deep undercover, and with his life in imminent danger, Utah strives to prove they are the architects of this string of inconceivable crimes.
Point Break hits theaters on December 25th.