Another 'Force Awakens' Character Confirmed To Return For 'Star Wars Episode VIII'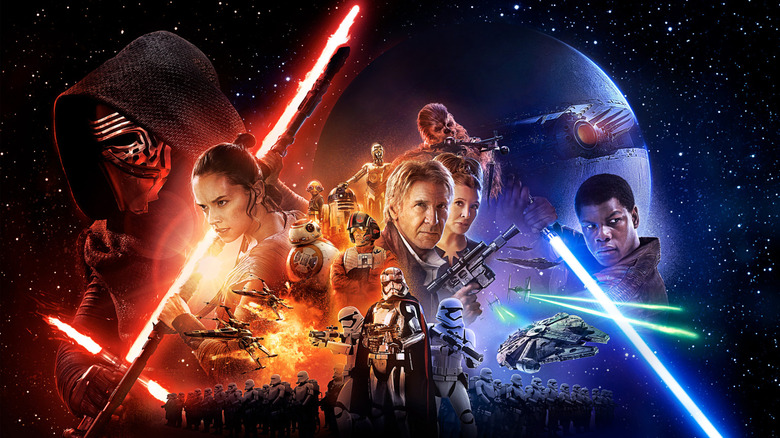 Much about Star Wars: The Force Awakens remains shrouded in mystery, with just two weeks to go until the film's release, but even less has been revealed about Star Wars Episode VIII. We know it's already slotted for summer 2017, and that Rian Johnson will direct it. And as of today, we also know it'll feature the return of a certain new character from Star Wars: The Force Awakens.
Find out who after the jump. But please employ your common sense: yes, this means a potential spoiler lurks below.
Seriously, now is the time to turn back if you'd rather go into The Force Awakens and Episode VIII knowing as little as possible. The details below don't seem to amount to a major spoiler (Lucasfilm would never confirm something that was), but you know your tolerance for spoilers better than we do.
Okay, ready?
The LA Times today published a celebratory profile of the women of Star Wars: The Force Awakens, including new female characters like Rey and Lucasfilm boss Kathleen Kennedy. Buried in a section about Gwendoline Christie's Captain Phasma was this little tidbit:
Kennedy has big plans for Phasma and confirmed that the captain will carry on into the next movie. "She's an important character, a baddie in the best sense of the word."
Captain Phasma has long been rumored to appear in Star Wars Episode VIII, but then again so has pretty much every other existing character. This is the first official confirmation we've gotten that Captain Phasma will indeed return for the next installment.
How exactly Captain Phasma figures into the story isn't clear. The First Order officer — nicknamed "the Chrome Trooper" by fans for her shiny metal armor — has been touted as "the Boba Fett" of The Force Awakens. But, well, have you seen the original trilogy lately? Boba Fett looks cool and all, but he's basically a glorified extra. He nods a few times, says a few words, and then goes out on a comedic beat. One rather hopes there'll be more to Captain Phasma than that.
For what it's worth, Phasma is apparently so cool that J.J. Abrams has already selected Christie's performance as his favorite in The Force Awakens:
I can only say that Gwendoline Christie is my favorite. She just killed it. You think, "Well, what? It's wearing a costume." But it's a lot to wear and to have a performance when you're wearing that requires a different kind of skill set and an additional talent, and she's got it. It's an incredible thing to work with her. I am glad that a character has been designed that is visually as stunning as that is, because she deserves it and the fans do too. When I first saw that design my mind was blown because it looked so undeniable.
Meanwhile, Christie had some thoughtful things to say about why Phasma is so important — not just to the narrative itself, but to pop culture:
We see women in a different range of roles in the film. And the reason I love my character so much and I feel so enthusiastic about Capt. Phasma is, yes, she's cool, she looks cool, she's a villain — but more than that, we see a female character and respond to her not because of the way she looks. We respond to her because of her actions. I think we're a society that has promoted a homogenized idea of beauty in women — and in men — and I think it's really interesting, modern and necessary to have a female character that isn't about the way her body looks. It isn't about her wearing makeup. It's not about her being conventionally feminized. The idea of this enormous legacy and franchise embracing an idea like that, which of course to many of us feels logical, is actually really progressive. And long overdue.