'Fargo' Season 3 Will Return To Present Day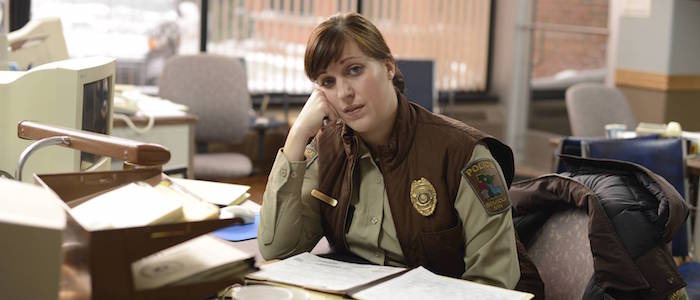 The first season of FX's Fargo was one of the most pleasant surprises in recent TV history. Showrunner Noah Hawley took an idea that seemed like pure folly, an anthology series set in the same universe as the Coen brothers' classic 1996 film, and crafted a series that acted as a perfect companion for the original movie while being very much its own thing. To those who are still turning their nose up at this show because it sounds like a terrible idea, know that you're missing one of the best pieces of entertainment available to you right now.
Season 2, which is currently airing to all kinds of acclaim, took the action back to the '70s, tracking an incident that was only alluded to in season one. And while Fargo could easily keep on jumping across the timeline, telling whatever stories it wants for as long as it wants, it looks like the officially confirmed third season may very well return to some familiar faces... presumably so it can do all kinds of dark and horrible things to them.
TV Line reports that Fargo season 3 will take place "a couple years after" season 1, which was set in 2006. That means that the next season could potentially feature the return of characters from the first season. Well, it could feature the return of those who survived, since a significant chunk of the main cast died violent and/or humiliating deaths by the time the credits rolled on the season finale. Naturally, this is all unconfirmed, but TV Line tends to be on point with rumors like this, so you only need a pinch or two of salt to deal with this story.
Spoilers for season 1 of Fargo follow.
While we certainly won't be seeing Billy Bob Thornton's black-hearted Lorne Malvo or Martin Freeman's pathetic and mortally selfish Lester Nygaard rise from the grave, other fan-favorites could be on deck. We would love nothing more than to see Allison Tolman, who came out of nowhere and won an Emmy for her tremendous performance as the sweet and smart police officer Molly Solverson, on our televisions again. And if she's back, that surely means that her husband, Gus (Colin Hanks) and adopted daughter Greta (Joey King) can come back, too.
It could also mean the return of her father, Lou Solverson (Keith Carradine), the retired police officer whose darkest days as a young man are currently being chronicled in season 2 (where he's played by Patrick Wilson). At this point, we're so attached to the Solverson clan and the many violent cases they've encountered over the years that we'd happily watch this show indefinitely if each season offered a fresh peek at what they're up to in a given decade.
With Fargo season 2 approaching its conclusion, we'll probably hear more about season 3 soon enough.