'Eye In The Sky' Trailer: Helen Mirren, Alan Rickman, And Aaron Paul Oversee A Drone Strike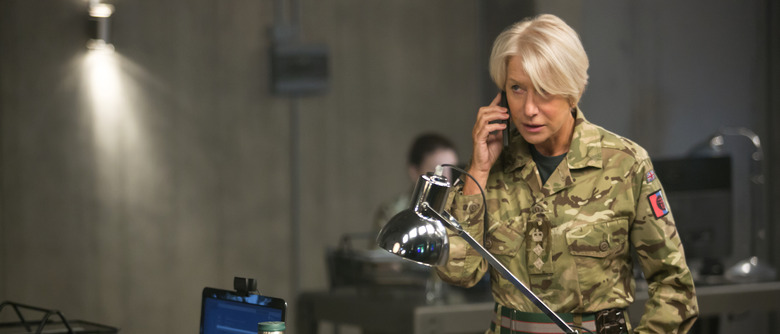 Traditional war movies are still around, but as drones increasingly replace or complement soldiers on the ground, real wars are looking less and less like them. Over the past few years we've seen a few films attempt to grapple with the new reality, and the latest to try is Gavin Hood's Eye in the Sky.
The thriller, which premiered at TIFF earlier this year, weaves together all the different concerns, conversations, and choices that go into a drone strike. Helen Mirren and Alan Rickman play military leaders, Aaron Paul a drone pilot, and Barkhad Abdi an undercover agent. All are anxious to prevent a potential suicide bombing, but their mission becomes infinitely more complicated when a little girl enters the kill zone.
Watch the Eye in the Sky trailer after the jump.
The Eye in the Sky trailer will look kind of familiar if you watched (or caught the trailer for) Andrew Niccol's Good Kill. But based on reviews out of TIFF, Eye in the Sky seems worth your time all the same. Indeed, JoBlo is pretty blunt about the comparison, starting their review with "Eye in the Sky gets everything right that Good Kill got wrong." Variety and We Got This Covered have likened it to another war film, Dr. Strangelove, though it doesn't seem to have quite the same satirical bite.
EYE IN THE SKY stars Helen Mirren as Colonel Katherine Powell, a UK-based military officer in command of a top secret drone operation to capture terrorists in Kenya. Through remote surveillance and on-the-ground intel, Powell discovers the targets are planning a suicide bombing and the mission escalates from "capture" to "kill." But as American pilot Steve Watts (Aaron Paul) is about to engage, a nine-year old girl enters the kill zone, triggering an international dispute reaching the highest levels of US and British government over the moral, political, and personal implications of modern warfare.
Bleecker Street has Eye in the Sky in theaters March 11, 2016.