Cool Stuff: Matt Ferguson's 'RoboCop' Print Is Part Man, Part Machine, All Awesome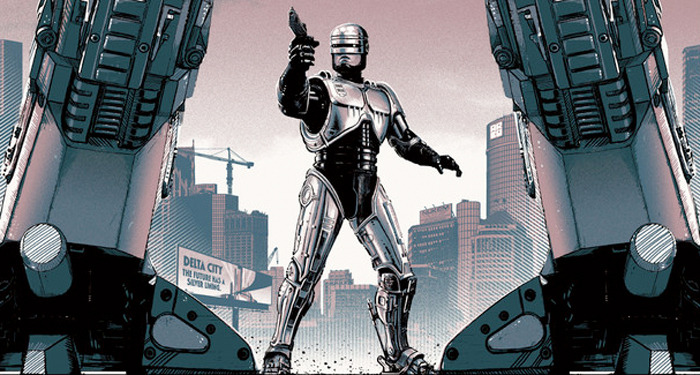 We've featured plenty of work from artist Matt Ferguson, from his Lord of the Rings poster set to his Star Wars trilogy collection and his art show in Brooklyn this past spring. Now we have one more cool piece to add to his impressive line-up, and it pays tribute to Paul Verhoeven's contemporary action classic, RoboCop.
See the full Robocop print and find out where you can get one after the jump!
Here are the two versions of Matt Ferguson's RoboCop print from Grey Matter Art:
The design features RoboCop facing his robot nemesis, the ED-209, right in the middle of downtown Detroit. I like the touch of having that billboard for Delta City in the background too. That's the kind of thing you would see one some fellow cinephile's t-shirt and you would both just nod each other knowingly like the nerdiest badasses in town.
As you can see, there are two versions of this RoboCop print. The regular version on the left is an edition of 125 and will cost you $45 while the right is a foil variant with an edition of just 75, and it will cost you $70. Both are sized 24x36 and perfect for framing on the wall. They might even make a great Christmas present if you've got a RoboCop fan in your life and you don't mind spending a little extra money on them.
If you want to see more of Matt Ferguson's fantastic artwork, be sure to check out his official website right here.