Steven Spielberg Will Not Recast Indiana Jones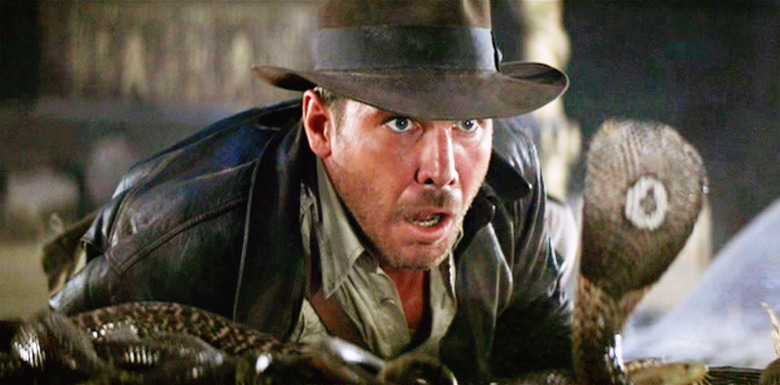 Steven Spielberg is probably going to direct another Indiana Jones film. There has been talk of rebooting the franchise — rumors that have always been quickly shot down — but Spielberg and Harrison Ford seem intent on making a fifth installment in the series. One day someone will probably fill Ford's shoes in the lead. A reboot is bound to happen. But don't expect the role to be recast anytime soon.
After the jump, Spielberg explains why there's only one Indiana Jones.
If and when they do recast the character, Disney and Lucasfilm is going to have a tough time finding an actor who can match the charisma Ford originally brought to the role. But as of this moment, the character still belongs to the 73-year-old actor. Speaking with Screen Daily, Spielberg says he doesn't believe another actor will ever play the role, especially in the next Indy adventure we see:
I don't think anyone could replace Harrison as Indy. I don't think that's ever going to happen. It's certainly not my intention to ever have another actor step into his shoes in the way there have been many actors that have played Spider-Man or Batman. There is only going to be one actor playing Indiana Jones, and that's Harrison Ford.
Following Indiana Jones and the Kingdom of the Crystal Skull, many fans are asking: why bother making another Indiana Jones film? Here's Spielberg's answer to that question:
Because there are more adventures out there than films. So as long as there's more adventures out there, I've got a bullwhip, a fedora, a leather jacket and a man on a horse who knows how to get the job done.
It's somewhat understandable if people have lost interest in the character after Crystal Skull, and believe it's time to hang up the fedora and leather jacket. But, to be fair, Spielberg is 3 for 4 with this franchise, and the next installment wouldn't involve George Lucas. The odds of Spielberg repeating the same mistake twice are slim, and it'd be great to see the director and his star end this series on a high-note. As for Ford, he told The Guardian, while promoting a little something called Star Wars: The Force Awakens, that he'd love to return to the character:
Yeah, I'd love to do another Indiana Jones. A character that has a history and a potential, kind of a rollicking good movie ride for the audience, Steven Spielberg as a director — what's not to like?