Disneyland Rumors: New FastPass System Coming? Star Wars Land And Marvel Expansion Updates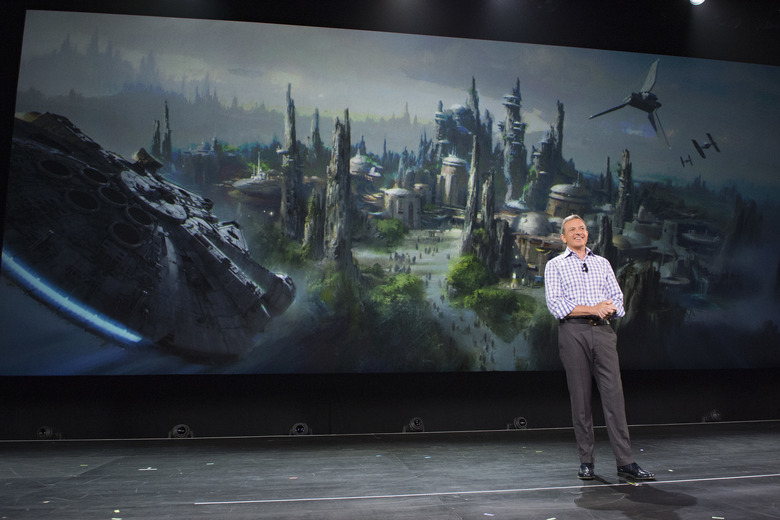 A bunch of Disneyland rumors hit the web this week, including updates on the timetable, geography and construction of Star Wars Land, a new FastPass system that could be coming in 2016, a possible big revamp to Downtown Disney,  an opening date for Luigi's Rollickin' Roadsters, more information on the rumored Marvel Expansion planned for Disney California Adventure, and more.
The following information comes from a very lengthy update posted on MiceChat. While the site has been known to have deep sources in this area, lets consider the following bits to be rumor until officially confirmed by Disney.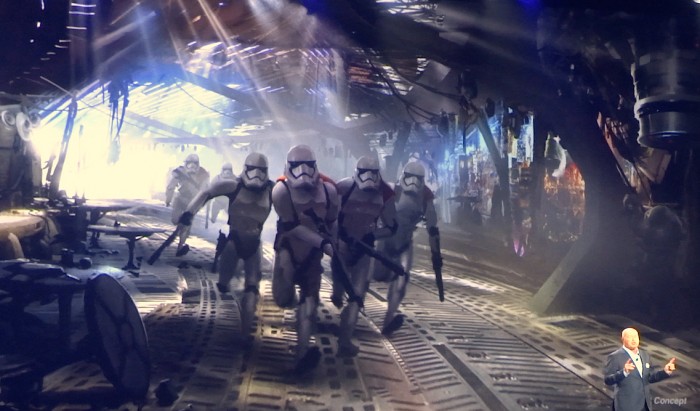 Star Wars Land Construction
Star Wars Land will begin massive demolition in January 2016 and should be into heavy construction phases by springtime 2016. The site claims the footprint of the new land "has continued to flex a bit this fall, but has recently settled into what should be its final version." The project now as ha "a projected opening date that's now pegged for Spring, 2019."
Apparently there will be three entrances to Star Wars Land, a side entrance from the eastern flank of Fantasyland where Big Thunder Ranch BBQ restaurant currently stands, a second side entrance from a new pathway that will snake around from the Hungry Bear Restaurant, and the main entrance path will apparently "pass through a cavernous archway accessed via the current Big Thunder Trail." Thats an interesting idea — I never thought we'd walk through that hole to get to the new land.
The demolition project is code named "Delos" by Walt Disney Imagineering, certainly named after one of the most important mythological, historical and archaeological sites in Greece. And the actual construction phase of Star Wars Land has been code named "Atlantis", another Greek reference. The two massive attraction show buildings being created for Star Wars Land should begin to be framed in by early 2017.
The Stormtrooper chase and escape ride, which is apparently codenamed Alcatraz internally, will feature "autonomous trackless vehicles and nearly every other techno marvel WDI can throw at it." The show building for that ride will be constructed in the northwest corner of the new land blocking the views of Mickey & Friends parking lot. The Millennium Falcon flight attraction, codenamed "Big Bird", will be housed in the second largest show building in the new land, which will be located on the northern perimeter of the new land.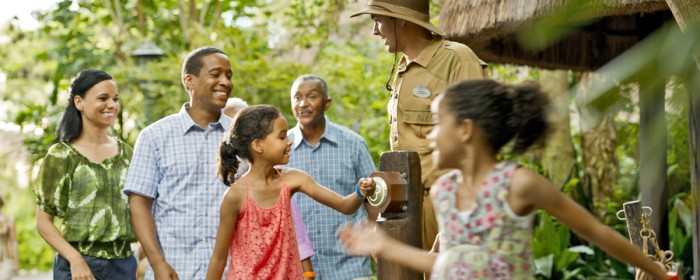 New FastPass System Coming In 2016?
And we've been hearing rumors for years about the magic bands and MyMagic+ from the Florida parks eventually coming to California. The new report claims a new version of Fastpass will arrive in Disneyland in 2016, but thankfully it wont be the same MyMagic+ and MagicBand program used at Disney World Resort.
Many additional Disneyland rides will have Fastpass added to them this spring, and while paper Fastpasses will remain at all attractions, people inside the parks will be able to use the new Disneyland App to reserve paperless Fastpass reservations downloaded onto their smartphone for any ride that has them available. There will be no plastic wristbands and no 90 day reservation windows for the Anaheim system – the existing legacy Fastpass operation will be expanded to additional rides and then overlayed with the App based system as an option. ...  The ability to reserve Fastpasses in advance of your visit won't be available to day guests or Annual Passholders, although it's planned to be an option for people staying at the Disneyland Resort hotels at first, and perhaps later for Good Neighbor hotels. The App will also require you to allow location tracking on your phone, as the App-based Fastpasses will only be available to users who are physically inside one of the two parks when they attempt to make a Fastpass reservation on the App.
As an annual passholder who plans last minute trips to the park on a monthly basis, the idea of Disney World's magic bands coming to Southern California was worrisome (imagine most of the fast passes being reserved by vacation planners months before they visit).  It sounds like what Disneyland Resort will be getting will be better for local day trippers and Annual Passholders.
Downtown Disney Revamp Coming?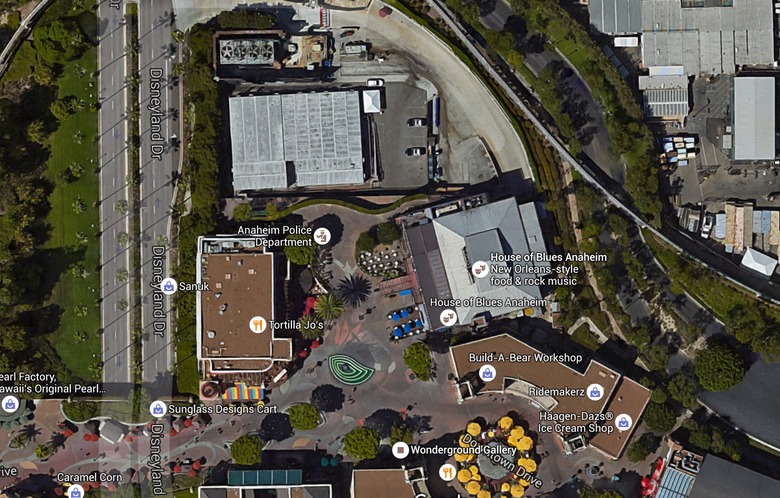 In 2016 Downtown Disney will "embark on a major plan to remodel and repurpose the 15 year old mall and remake it into a West Coast version of WDW's newly opened Disney Springs complex." And it makes sense for the outdoor shopping district to get a revamp as one of its major tenants will be leaving soon: The House of Blues will be closing in January 2016, and there is no word yet on a replacement.
And there is even room to grow, like the large expansion plot directly north of the restraint/music venue that was originally supposed to get a DisneyQuest arcade complex, but as you know that concept never really took off in Orlando and is going to be replaced next year with a new "NBA Experience".
Disneyland Resort's Downtown Disney is far less interesting that its revamped Disney World counterpart  Disney Springs. I hope that the West Hollywood coast Downtown might get some cool additions like the Indiana Jones themed restaurant/bar in Orlando. I'm wondering if there plan for a new parking garage on the other side of the park may open up new room for a retail expansion on the Downtown Disney side of the park.
The Downtown Disney revamp will apparently be worked on this winter by Christie Fleischer, former Senior Vice President of Retail Development for Disney Consumer Products who is apparently set to become the Vice President of DCA & Downtown Disney.
Hit the jump for more, including Luigi's Rollickin' Roadsters opening details, Marvel Expansion information and updated details on the rerouting of Disneyland Railroad.
Luigi's Rollickin' Roadsters Set To Open
Disney California Adventure's Luigi's Flying Tires replacement/remake Luigi's Rollickin' Roadsters is completed and just waiting on inspection approval, which should have it for operation for a soft open before Christmas 2015.
Disney California Adventure's Marvel Expansion
In August, we heard rumors of plans to expand Disney California Adventure with a new Marvel themed land behind Tower of Terror with an E Ticket thrill ride employing a new Imagineered hybrid ride system described as" a combination of Rock N' Roller Coaster and Universal's Transformers ride using every trick and gimmick WDI can throw at it, including on-board audio and effects and elaborate sets and animatronics."
An update claims the project is moving ahead as the "indoor mega-coaster planned as the lands new E Ticket was wowing the designers but underwhelming the Anaheim operators" as it is very short on hourly rider capacity (which probably means long slow moving lines). Apparently the new plan is to open the Marvel expansion in two phases, with a series of meet n' greet and "merchandise offerings" opening first before Star Wars Land comes in 2019. Apparently this is why the new Superhero HQ in Tomorrowland was not given a huge budget as Disney doesn't expect it to be in the Innoventions building past 2017. The Marvel coaster attraction would supposedly open "a year or two later."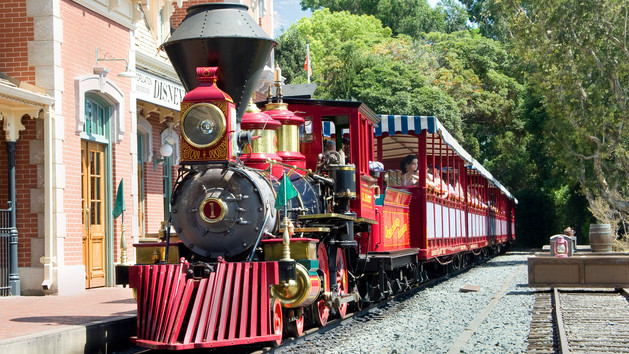 Disneyland Railroad Rerouting Details
As for how the Disneyland Railroad will be rerouted to make this possible, here is what is rumored to happen:
Disneyland Railroad will form the southern border of the new land, passing along the rerouted Rivers of America and then over a series of trestles and along a high berm that will physically separate Star Wars Land from the existing lands. Once the railroad passes the Hungry Bear Restaurant, a new route will take the tracks along a snaking S-curve before it rejoins the original route just north of the Fantasyland Theatre. The new railroad route will also take the train along a rocky mountainside with a watery cave below that will lead to the new storage marina for all of the Fantasmic! barges and equipment. In what's likely the final version of the Star Wars footprint, the Fantasyland Theatre will stay for now, although it's prime real estate to access a smaller expansion pad just west of Toontown that will be left over after the Star Wars Land dust settles.
The fact that Fantasyland Theatre might not be going away should make some Disneyland pass holders happy.