'Batman V Superman: Dawn Of Justice' Trailer: Doomsday Arrives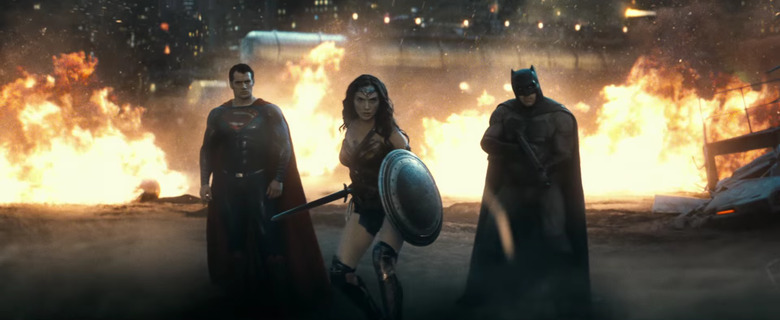 Not to be outdone by Marvel's Captain America: Civil War, 2016's other big superhero vs. superhero movie has also hit Jimmy Kimmel Live to unveil new footage. Warner Bros. offered a little taste of Batman v Superman: Dawn of Justice earlier this week with an intriguing, if puzzling, tease, and now the full-length trailer is here in all its grim, gritty glory.
Among other things, the latest Batman v Superman: Dawn of Justice trailer confirms one very persistent rumor and debunks another, and offers the first look at the three superheroes standing side-by-side (as seen above). Watch the Batman v Superman: Dawn of Justice trailer after the jump. 
Yup, that's right: It turns out all the rumors about Doomsday were true. It also turns out the rumors about Warner Bros. having a strict "no jokes" policy for their DC universe were exaggerated. There's a lot more humor here than we might have expected from a sequel to the endlessly dour Man of Steel, and Lex Luthor in particular seems to be kind of a jokester. But for my money, nothing beats that badass appearance by Wonder Woman.
The title Batman v Superman: Dawn of Justice does a good job of explaining the plot all on its own – up to and including the inevitable third-act team-up that'll pave the way for 2017 and 2019's two-part Justice League. But in case you want a little more detail, here's the official synopsis:
Fearing the actions of a god-like Super Hero left unchecked, Gotham City's own formidable, forceful vigilante takes on Metropolis' most revered, modern-day savior, while the world wrestles with what sort of hero it really needs. And with Batman and Superman at war with one another, a new threat quickly arises, putting mankind in greater danger than it's ever known before.
Batman v Superman: Dawn of Justice arrives March 25, 2016. Zack Snyder directed from a script by Chris Terrio and David Goyer. Ben Affleck stars as Batman, Henry Cavill returns as Superman, and Gal Gadot makes her debut as Wonder Woman. Jason Momoa is additionally expected to make a cameo as fellow Justice Leaguer Aquaman.
Also starring are Jesse Eisenberg as Lex Luthor, Amy Adams as Lois Lane, Holly Hunter as Senator Finch, Diane Lane as Martha Kent, Laurence Fishburne as Perry White, and Jeremy Irons as Alfred Pennyworth. Jena Malone and Scoot McNairy also appear in unspecified roles.