'Mad Max: Fury Road' Lives, Dies, Lives Again As The National Board Of Review Declares It The Best Film Of 2015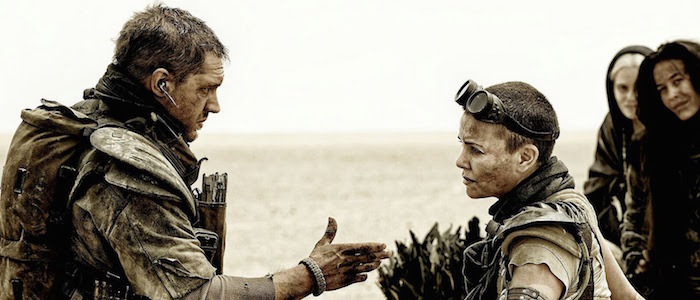 The National Board of Review doesn't often predict which film will win big at the Academy Awards, but its year-end awards frequently align with films that ultimately score big nominations. That's why their selection of Mad Max: Fury Road as the best film of 2015 can't help but feel like a big deal. Since the year 2000, only two of NBR's picks for best film of the year (2014's A Most Violent Year and 2000's Quills) haven't gone on to compete for the top prize at the Oscars, so you have to wonder if the passionate groundswell of critical support for George Miller's visceral masterpiece will take it where few action blockbusters have gone before: the Best Picture race.
Check out the full list of National Board of Review winners after the jump.
Everyone knows that Mad Max: Fury Road isn't going to win Best Picture at the Oscars, but it's certainly fun to imagine it racking up a bunch of nominations in the face of an awards season that is increasingly looking like a big 'ol shrug. Note the lack of nods for The Revenant, Brooklyn and other serious contenders in the nominees below – these are some very interesting choices. Maybe (maybe!) Max Rockatansky and Imperator Furiosa can defy the odds.
Although Fury Road nabbed the top prize, The Martian scooped up Best Director for Ridley Scott, Best Actor for Matt Damon, and Best Adapted Screenplay for Drew Goddard, adding to the narrative that the film  may become a surprise player in the Oscar race. After all, critics loved it, audiences made it a huge hit, and there's a certainly a great narrative in an industry vet like Scott scoring a win.
The other most intriguing wins went to Quentin Tarantino's The Hateful Eight, which was awarded Best Original Screenplay and Best Supporting Actress for Jennifer Jason Leigh. There are two stories here: that Tarantino's latest movie is as good as it looks and Leigh may be the latest performer to get the QT-patented career comeback. She also gives an extraordinary performance in Anomalisa, making 2015 the year of the Leigh.
Also noteworthy: Best Actress, which everyone suspects will go to Cate Blanchett for Carol at the Oscars, went to Brie Larson for Room. Equally noteworthy: Sylvester Stallone winning Best Supporting Actor for Creed.
Here is the complete list of nominees:
Best Film:  Mad Max: Fury RoadBest Director:  Ridley Scott – The MartianBest Actor:  Matt Damon – The MartianBest Actress: Brie Larson – RoomBest Supporting Actor:  Sylvester Stallone – CreedBest Supporting Actress:  Jennifer Jason Leigh – The Hateful EightBest Original Screenplay:  Quentin Tarantino – The Hateful EightBest Adapted Screenplay:  Drew Goddard – The MartianBest Animated Feature:  Inside OutBreakthrough Performance:  Abraham Attah – Beasts of No Nation & Jacob Tremblay – RoomBest Directorial Debut:  Jonas Carpignano – MediterraneaBest Foreign Language Film:  Son of SaulBest Documentary:  AmyWilliam K. Everson Film History Award:  Cecilia De Mille PresleyBest Ensemble:  The Big ShortSpotlight Award:  Sicario, for Outstanding Collaborative VisionNBR Freedom of Expression Award:  Beasts of No Nation & MustangTop Films
Bridge of Spies
Creed
The Hateful Eight
Inside Out
Spotlight
The Martian
Room
Sicario
Straight Outta Compton
Top 5 Foreign Language Films
Goodnight Mommy
Mediterranea
Phoenix
The Second Mother
The Tribe
Top 5 Documentaries
Best of Enemies
The Black Panthers: Vanguard of the Revolution
The Diplomat
Listen to Me Marlon
The Look of Silence
Top 10 Independent Films
'71
45 Years
Cop Car
Ex Machina
Grandma
It Follows
James White
Mississippi Grind
Welcome to Me
While We're Young