Tupac Shakur Biopic Picks Up Another New Director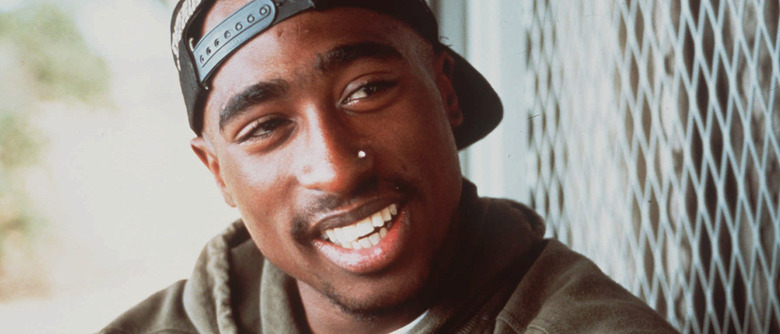 Following a small cameo in Straight Outta Compton this summer, Tupac Shakur may finally get his own big-screen biopic. The long-gestating project has just found a new director in Benny Boom, replacing Carl Franklin (who in turn replaced John Singleton). More details on the Tupac biopic director update after the jump. 
THR reports Boom has entered negotiations with production company Morgan Creek to direct the Tupac movie — and just in time, too. Under the current deal, if the film isn't in production by the end of the year, the music rights will revert back to Shakur's mother Afeni Shakur. The timing also lets the movie capitalize on the recent success of Straight Outta Compton, another '90s rap biopic which featured a brief appearance by Shakur (played by actor Marcc Rose).
Boom confirmed the news on Instagram.
I am blessed with the opportunity of a lifetime. Telling the story of this revolutionary, artist, visionary, genius, soldier! I will make him proud and uphold the legacy. ????
A photo posted by @boomlife on
The Tupac Shakur movie has been in development for years already, and beset with legal and creative issues for much of that time. In 2009, the company sued Afeni Shakur for the music rights, and she responded by suing them back. The two sides finally reached an agreement in 2011, and Antoine Fuqua was attached to direct. When Fuqua's version of the film fell apart, John Singleton (who'd worked with Shakur in 1993's Poetic Justice) replaced him.
Singleton stayed on board for a few years but dropped out this past spring over "major creative differences." "The reason I am not making this picture is because the people involved aren't really respectful of the legacy of Tupac Amaru Shakur," he explained on Instagram. Carl Franklin (Out of Time) stepped in to direct instead, but eventually he dropped out too. In October, Emmett Furla Oasis sued Morgan Creek, alleging that the latter had breached a co-production agreement by choosing a lead and setting a budget and schedule without Emmett / Furla's approval.
None of this is to say the Tupac Shakur movie can't work out, of course — plenty of great movies have been plagued with problems behind the scenes. But the fact that Morgan Creek is rushing into production to hang onto the rights doesn't seem like a good sign. Boom will have his work cut out for him, in any case.
Boom previously helmed the Mos Def (Yasiin Bey) comedy Next Day Air and the direct-to-DVD crime thriller S.W.A.T.: Firefight. However, he's best known as the director of music videos for Nicki Minaj, Lil Wayne, 50 Cent, Busta Rhymes, Keyshia Cole, Nas, Nelly, and many more. Sample some of his work below: