VOTD: Sky Movies 'Star Wars' Saga Promo Weaves All The Movies Together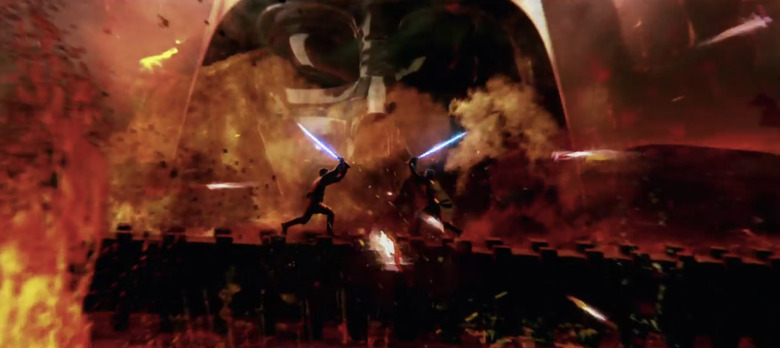 While people in the United States don't have an easy way to watch the Star Wars saga without paying for the films on digital download, Blu-ray or DVD, our friends in Europe will get access to every single film preceding this winter's Star Wars: The Force Awakens as long as they have Sky Movies.
Starting on December 11th, the premium subscription channel that spans United Kingdom, Ireland, Germany, Austria and Italy will have all six Star Wars movies available to watch at home or on mobile devices. And to show off their additions to the library, they've delivered an awesome promo that weaves each of the films into each other in a cool way.
Here's the Sky Movies Star Wars promo:
Somehow this advertisement actually has me excited to watch the prequels on the big screen again (I'm partaking in the epic marathon of all the movies before The Force Awakens). But that might just be because I like how the twin suns of Tatooine turn into Darth Maul's fiery eyes, and Darth Vader looming over the battle between Anakin Skywalker and Obi-Wan Kenobi on Mustafar.
But of course, that's nothing compared to how thrilled I am to see all of the original trilogy on the big screen again, even if it's the Special Edition version with all the changes I don't like. Now that it's officially December, we're in the home stretch, and the Force is only going to get stronger as we get closer to December 18th.