Cool Stuff: Mark Englert's 'The Good Dinosaur' Print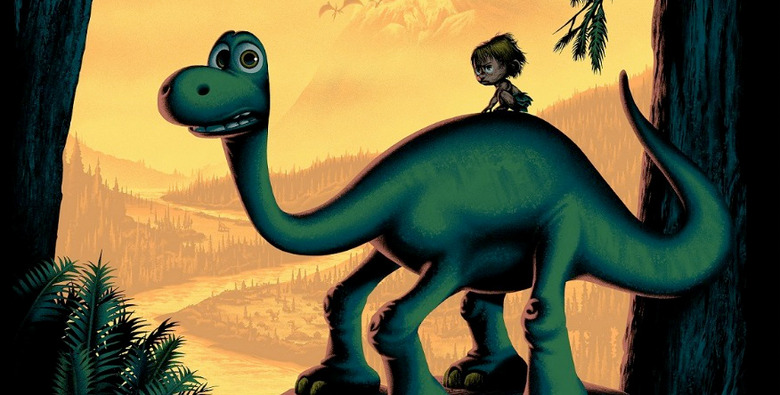 Even though Pixar's The Good Dinosaur wasn't able to beat out The Hunger Games: Mockingjay – Part 2 for the holiday box office last weekend, it still took the #2 spot. And if you fell in love with the dinosaur Arlo and his new friend Spot, Mark Englert has delivered a lovely The Good Dinosaur print that you might want to hang out your wall. Check it out below!
Here's Mark Englert's The Good Dinosaur print from Disney Insider:
On black paper, this print looks fantastic, with the Claw Tooth Mountains in the background, and that creepy lizard predator lurking overhead. As for the inspiration for the piece, Englert had this to say:
I really wanted to set this piece inside the confines of Arlo's fear, with a look out into the great, big, exciting, Mesozoic world out there for him to explore.
For those wondering why Englert didn't go with his traditional ultra-widescreen style for this one, especially for a film that has such rich, sprawling landscapes that are indiscernible from the real thing without the dinosaurs in the picture, he has an answer:
The ultra-wide format I usually work in was my backup plan, but it turned out the folks at Pixar liked this idea, so I ran with it!
While it may not be one of Pixar's best, with a touching but derivative story, The Good Dinosaur was still better than most animated fare that gets produced today. And if you want to find out more about how Pixar went out of their way to make sure it was different from their previous efforts, check out our extensive feature on the film right here, along with an interview with director Peter Sohn.
If you want to pick up this print, the regular version (left) has an edition of 335 and will cost you $65 while the variant version (right) is an edition of just 100 and will cost $85. Each measures 24x36 and they're both available at Cyclops Print Works right now at the respective links.