'Batman V Superman: Dawn Of Justice' Trailer Tease: The Dark Knight Is Unmasked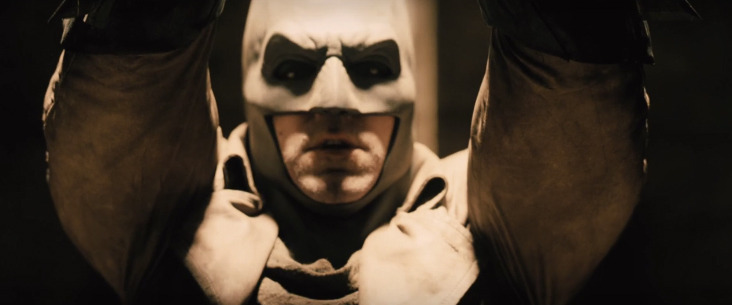 If you're one of those poor schmucks who has been consistently watching Gotham out of obligation and/or the desperate desire to have DC characters of any kind in your life, you were thrown a bone tonight. New footage from Batman v Superman: Dawn of Justice premiered, simultaneously rewarding your admirable commitment to the larger Batman mythos and reminding you that Gotham doesn't feature Batman at all and making you question why you've been enduring it.
Anyway, everyone else can just watch the new Batman v Superman footage after the jump. No Gotham required! We promise!
Here's the Batman v Superman trailer tease, which is just a taste of a new trailer coming later this week:
It's not entirely clear what's going on here, but the fact that this looks like the Batman's imaginary Worst Case Scenario for an unchecked Superman suggests that this scene is probably a dream (or maybe a Lex Luthor-induced hallucination). The next full trailer will premiere this Wednesday, December 2nd, on Jimmy Kimmel Live. It should meander over to YouTube soon after.
For the record, saw glimpses of this footage in the trailer that debuted at Comic-Con earlier this year:
Directed by Zack Snyder, Batman v Superman: Dawn of Justice stars Ben Affleck as Bruce Wayne, Henry Cavill as Clark Kent, Gal Gadot as Wonder Woman, Jesse Eisenberg as Lex Luthor, Jeremy Irons as Alfred, Amy Adams as Lois Lane, Laurence Fishburne as Perry White, Tao Okamoto as Mercy Graves, Holly Hunter as Senator Finch, and Diane Lane as Martha Kent. The film is expected to feature cameos from Jason Momoa as Aquaman and Ezra Miller as The Flash, with Jenna Malone and Scoot McNairy playing unspecified roles (although rumors suggest Barbara Gordon and Jimmy Olsen).
Here is the official plot synopsis (which is one of several), although the title really does tell you everything you need to know:
Fearing the actions of a god-like Super Hero left unchecked, Gotham City's own formidable, forceful vigilante takes on Metropolis' most revered, modern-day savior, while the world wrestles with what sort of hero it really needs. And with Batman and Superman at war with one another, a new threat quickly arises, putting mankind in greater danger than it's ever known before.
Batman v Superman: Dawn of Justice opens on March 26, 2016. It is the first step in the larger DC movie universe, which will soon include Suicide Squad, Wonder Woman, Aquaman, The Flash, Green Lantern Corps, and a two-part Justice League movie.