Cool Stuff: Original Stormtrooper Blaster Gets The Full-Size LEGO Treatment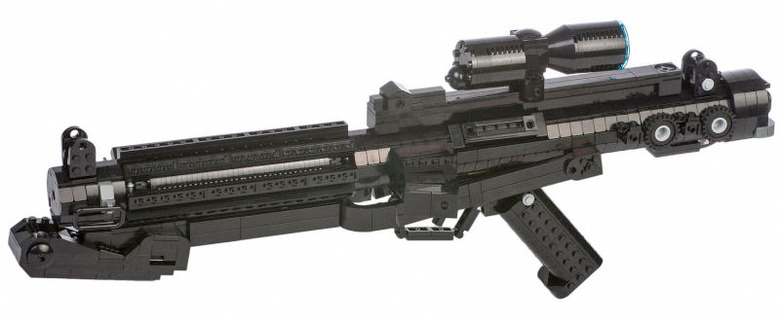 With Star Wars Battlefront on the shelves as another way of fueling the hype train on track to Star Wars: The Force Awakens, fans have been doing their fair share of blasting both Rebels and Imperials in the video game world. But one fan wanted to do some blasting with the weight of LEGO in his hands.
Flickr user and Star Wars fan Nick Jensen has recreated a life-size version of the E-11 blaster rifle, which fans will know as the blaster carried by Stormtroopers in the original Star Wars trilogy. They occasionally use the gun to hit their targets, but mostly it's just to make a lot of noise and flashing red lights. But this looks like quite the deadly piece of LEGO weaponry.
Here are a couple more photos of the LEGO Stormtrooper blaster from The Brothers Brick:
Jensen actually used the in-game model of the E-11 blaster from Star Wars Battlefront to create his own LEGO version. And since EA and Dice took 3D scans of the original props to make sure their video game versions were as accurate as possible, that seems to have been the right move. Jensen also explains:
For scale reference, I used the dimensions of a Sterling SMG, the gun from which the original E-11 film props were built. Working features on the LEGO replica include a moving trigger and a folding stock.
Unfortunately, this isn't a LEGO Ideas creation that we can try to get LEGO to officially make, and I can't imagine they'd be in the market to make a big toy gun anyway. However, if they want to create LEGO versions of lightsaber handles, that would be something really fun to build.
Soon enough we'll see a more exciting combination of LEGO and Star Wars as The LEGO Movie directors Phil Lord and Chris Miller will be at the helm of a Han Solo spin-off story. Though we're not expecting to see any LEGO action there.