Jennifer Lawrence Has $40,000 In Debt And One Great Idea In Two 'Joy' TV Spots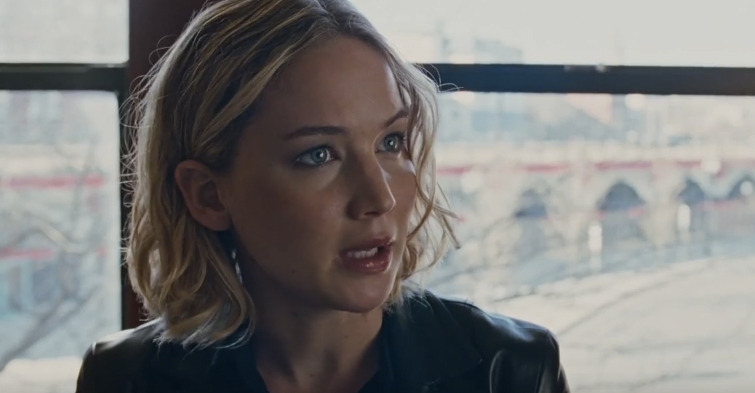 With Trumbo, Spotlight and Brooklyn expanding to more theaters this past weekend, it's safe to say that awards season is in full swing, and there will only be more potential Oscar contenders hitting theaters in December. One of those movies is David O. Russell's drama Joy, inspired in part by the woman who invented the Miracle Mop. The trailers have kept that detail mostly to the side in favor of dysfunctional family drama, but a couple new Joy TV spots put it front and center.
Here's the two new Joy TV spots from 20th Century Fox:
This certainly looks the king of gripping drama we've come to expect from David O. Russell, and he seems to bring out the best in Jennifer Lawrence. The Oscar winner got pretty tough in The Hunger Games as the makeshift leader of a revolution. But in Joy, she's fighting for her family, and once she hits a turning point, it's clear that she's no longer going to put up with anybody's bullshit. My only complaint is that Lawrence seems to be a little young for this role, but it's not exactly tainting the movie, so it's not a huge deal.
It's nice to see that as long as Robert De Niro works with Russell, he can still put in a worthwhile performance, especially since our other recent options are The Intern and next year's Dirty Grandpa. But I'm mostly interested to see what how Edgar Ramirez does in this film, because he should be getting many more opportunities than he's been afforded so far.
Joy arrives December 25 in theaters. If you want to see more, watch the most recent trailer right here.
JOY is the wild story of a family across four generations centered on the girl who becomes the woman who founds a business dynasty and becomes a matriarch in her own right. Betrayal, treachery, the loss of innocence and the scars of love, pave the road in this intense emotional and human comedy about becoming a true boss of family and enterprise facing a world of unforgiving commerce. Allies become adversaries and adversaries become allies, both inside and outside the family, as Joy's inner life and fierce imagination carry her through the storm she faces. Jennifer Lawrence stars, with Robert De Niro, Bradley Cooper, Edgar Ramirez, Isabella Rossellini, Diane Ladd, Virginia Madsen, Elisabeth Röhm and Dascha Polanco. Like David O. Russell's previous films, Joy defies genre to tell a story of family, loyalty, and love.