'Star Wars: The Force Awakens' Featurette Shows Off Simon Pegg's Alien Character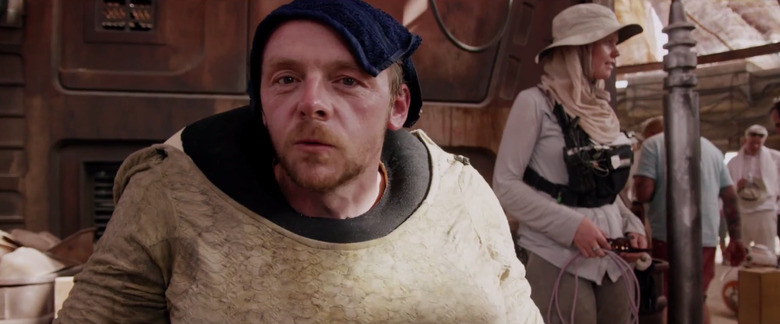 Back during the production of Star Wars: The Force Awakens, rumors swirled that J.J. Abrams had brought his Star Trek franchise star (and now sequel co-writer) Simon Pegg into the galaxy far, far away for some kind of cameo in the movie. That rumor was confirmed when Pegg popped up in the Comic-Con sizzle reel from this past summer, wearing a big fat suit, apparently playing some kind of alien.
Now you can finally see what he looks like thanks to a new The Force Awakens featurette from the Disney Channel that focuses on Rey (Daisy Ridley). However, if you're one of those fans who doesn't want to see anymore footage, you may want to steer clear, because there are some new snippets of footage, both from the movie and behind the scenes. You've been warned!
Here's the Star Wars: The Force Awakens featurette "Rey's Adventure" (via StarWarsNewsNet):
There are some cool new shots of Rey here along with some previous shots we've seen of her piloting the Millennium Falcon with Finn (John Boyega) taking a gunning station as they try to outrun TIE Fighters on Jakku. That sequence is going to be magnificent in IMAX.
But the one shot that we'd like to call attention is actually from behind the scenes, where J.J. Abrams is doing some directing in a scene with Daisy Ridley and a new alien. There's plenty of aliens in the Star Wars universe, so normally that wouldn't be worth pointing out. But in this case, it gives us our first look at Simon Pegg's alien character in the movie. Here's a photo with the shot in question from the featurette and a shot from the Comic-Con sizzle reel of Pegg in his body suit: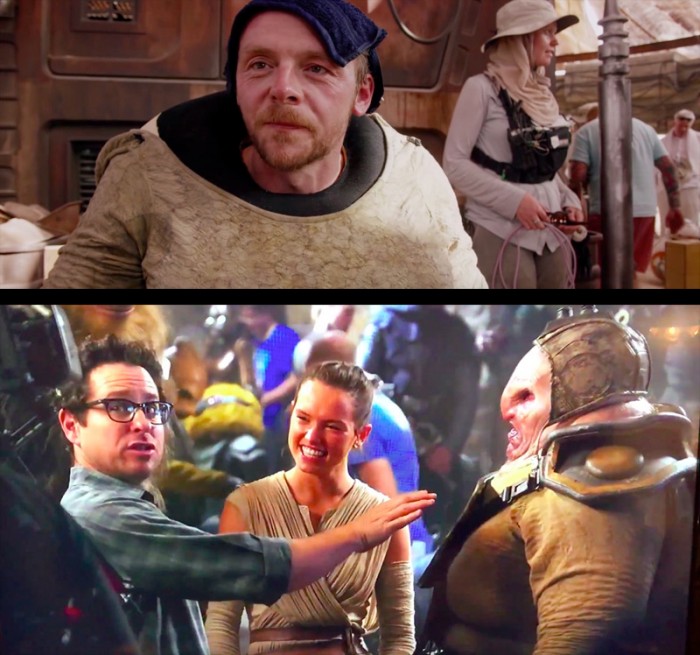 Not only does the upper torso of the body seem to match, MakingStarWars.net revealed a description of the alien earlier this month, "He's got a huge downturned nose. He's rather troll-like. He's an angry looking oaf." And that's a perfect way of describing the alien we see above.
The source believes his character name is Unkar Plutt, which means he might have a pivotal role in the movie since we know there are characters described as Unkar henchmen and thugs thanks to some of the LEGO sets released so far. We'll find out Pegg's role in the film in about 18 days when Star Wars: The Force Awakens finally arrives next month.