'Batman V Superman' Preview To Air With The 'Gotham' Midseason Finale On Monday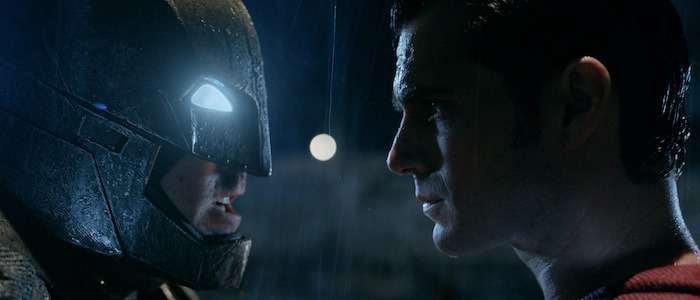 With the Captain America: Civil War trailer arriving just last week, comic book movie fans are now hungry for a look at the other big superhero battle coming in 2016. Batman v Superman: Dawn of Justice delivered a full trailer this past summer at Comic-Con and online at the same time, but with the movie just a few months away, fans want to see more. And they'll get their wish next week.
Some kind of exclusive preview for Batman v Superman will be airing during the midseason finale of Gotham on Monday, and a promo for it features the cast of the show weighing in on who they think would win in a fight between The Dark Knight and The Man of Steel. Check it out!
Here's a promo for the Batman v Superman preview coming with Gotham on Monday:
Producer Charles Roven recently said that we would get to see some more footage from Batman v Superman: Dawn of Justice before the year was out, and this could be what he was talking about. We don't know if this is a new full trailer or just some kind of look behind the scenes interspersed with new footage from the movie, but fans will definitely get to see something on Monday.
Since Marvel Studios has premiered some footage from their forthcoming projects on seasons of Agents of SHIELD before, it should come as no surprise that Warner Bros. Pictures wants to play to their core audience while maybe getting some people to sit through Gotham who haven't watched the show before. But since we live in the world of the internet, many will probably just wait until it's online to see what new footage is offered.
I will say that I like what the studio did to tease the forthcoming promo for Batman v Superman by having the Gotham cast weigh in on the superhero battle that always sparks debated. It's much better than just having a commercial for the commercial simply say the promo is coming, even if the cast of Gotham is a little biased for obvious reasons. But kudos to Drew Powell, who plays Butch Gilzean, for standing his ground and saying that he likes Superman better.
If you want to catch the promo live on television, Gotham airs on Monday, November 30th at 8pm ET/7pm CT. For the rest of you, we'll have the sneak preview posted online as soon as it's available.
Batman v Superman: Dawn of Justice arrives on March 25th, 2016.