'Agent Carter' Season 2 Trailer: She's "The Chick With The Shotgun"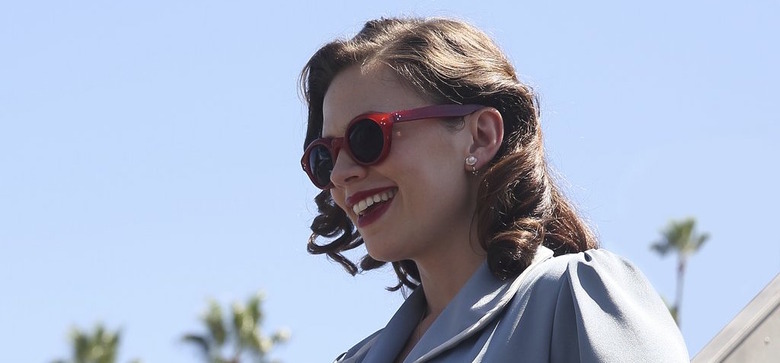 Early next year Marvel's Agent Carter returns to ABC. Like season one, the show will serve as a midseason replacement for Agents of S.H.I.E.L.D. The season premiere is scheduled for Tuesday, January 5th at 9/8c with a two-hour episode.
After the jump, watch the newest teaser trailer for the latest season of Agent Carter.
Hayley Atwell is Agent Peggy Carter, an English-born agent for the Strategic Scientific Reserve. In season one, Carter was based in New York City, but she'll see a change of scenery with the upcoming season. The character is taking on a post-war Hollywood, with class, style, wit, and a shotgun. Here's the new Agent Carter season 2 trailer right here:
Season two sees the return of James D'Arcy as Edwin Jarvis, Enver Gjokaj as Daniel Sousa (now an SSR chief), and Chad Michael Murray as Chief Jack Thompson are all returning for season two. Dominic Cooper and Bridget Regan continue to guest star as Howard Stark and Dottie Underwood.
Agent Carter doesn't seem as beloved as Marvel's Daredevil or their recent hit show, Jessica Jones, but the ABC show has its fans, and I've been meaning to finish season one. The last teaser for season two wasn't very popular with fans. Maybe I'm wrong, but the tone of these teasers aren't doing the show justice, based on what I've seen and what the fans are saying.
Then again, it's only 15 seconds of footage with a slightly off-putting pop song. Atwell, of course, still looks incredibly charming in the role, and moving the character to Hollywood could make for an exciting and playful new setting. Sometimes changing locations is a great way to shake things up. This season of HBO's The Leftovers, for example, has really benefited from its new location.
Here's the official plot synopsis for season two of Agent Carter:
"Marvel's Agent Carter" returns for a second season of adventure and intrigue, starring Hayley Atwell in the titular role of the unstoppable agent for the SSR (Strategic Scientific Reserve). Dedicated to the fight against new Atomic Age threats in the wake of World War II, Peggy must now journey from New York City to Los Angeles for her most dangerous assignment yet. But even as she discovers new friends, a new home – and perhaps even a new love – she's about to find out that the bright lights of the post-war Hollywood mask a more sinister threat to everyone she is sworn to protect.
Agent Carter season two premieres on Tuesday, January 5th at 9/8c.