Alex Proyas And Lionsgate Apologize For 'Gods Of Egypt' Whitewashing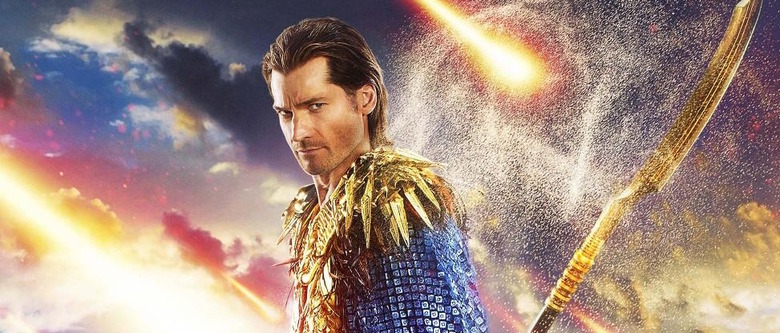 Gods of Egypt just can't catch a break. The buzz surrounding the film is currently toxic, following the garish posters and a trailer that left people scratching their heads. Then, the film was criticized for its prominently white cast. Considering Gods of Egypt is, you know, based in Egypt, it's a puzzling, if not completely surprising, choice that all the major leads — Gerard Butler, Nikola Coster-Waldau, and Brenton Thwaites – are white.
After the jump, read what Lionsgate and director Alex Proyas have to say about the Gods of Egypt whitewashing.
The studio had to have seen this coming. The year is 2015, and we've seen other films heavily criticized for whitewashing over the past few years. To Lionsgate's credit, they're not hiding and have released an apology. Here's a statement they released to Forbes:
We recognize that it is our responsibility to help ensure that casting decisions reflect the diversity and culture of the time periods portrayed. In this instance we failed to live up to our own standards of sensitivity and diversity, for which we sincerely apologize. Lionsgate is deeply committed to making films that reflect the diversity of our audiences. We have, can and will continue to do better.??
There's a vagueness to this apology, and the same goes for Proyas' response:
The process of casting a movie has many complicated variables, but it is clear that our casting choices should have been more diverse. I sincerely apologize to those who are offended by the decisions we made.
Why weren't the casting choices more diverse? Why didn't the studio live up to their own expectations of sensitivity and diversity? The sad truth is probably along the lines of what director Ridley Scott had to say a few years ago about Exodus: Gods and Kings, because there's no way the filmmakers simply forgot they were making a movie set in Egypt. Nobody looks at the Gerard Butler and thinks, "This guy was definitely born and bred in Egypt." Most of the leads in Gods of Egypt being white isn't just some accident.
Here's the official plot synopsis for Gods of Egypt:
Magic, monsters, gods and madness reign throughout the palaces and pyramids of the Nile River Valley in this action-adventure inspired by the classic mythology of Egypt. With the survival of mankind hanging in the balance, an unexpected hero takes a thrilling journey to save the world and rescue his true love. Set (Gerard Butler), the merciless god of darkness, has usurped Egypt's throne, plunging the once peaceful and prosperous empire into chaos and conflict. With only a handful of heroic rebels opposing Set's savage rule, Bek (Brenton Thwaites), a bold and defiant mortal, enlists the aid of powerful god Horus (Nikolaj Coster-Waldau) in an unlikely alliance against the evil overlord. As their breathtaking battle against Set and his henchmen take them into the afterlife and across the heavens, both god and mortal must pass tests of courage and sacrifice if they hope to prevail in the spectacular final confrontation.
Gods of Egypt opens in theaters February 26th.