Christmas Again Trailer: Christmas Is The Loneliest Time Of The Year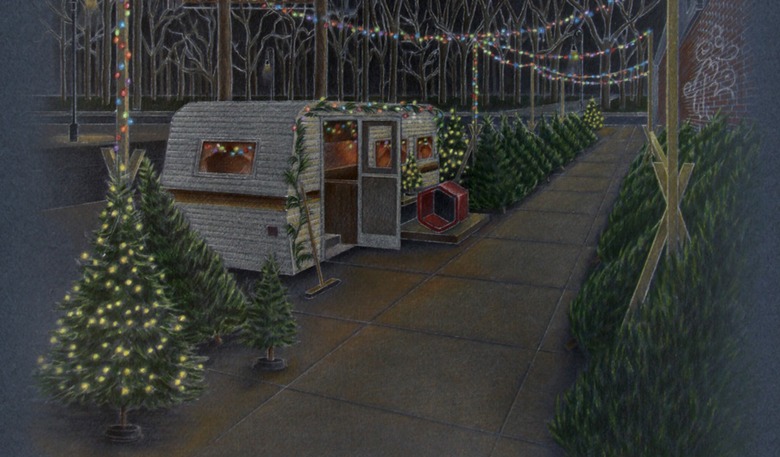 Factory 25 has released the trailer for Christmas, Again, the romantic indie drama which played the Sundance Film Festival earlier this year. I wasn't able to catch this movie while I was in Park City, but the film got some favorable reviews and is headed for MoMA in New York City on December 3rd and Los Angeles on Friday, December 11th 2015 before hitting iTunes and select digital and cable platforms. The film tells the story of a heartbroken Christmas-tree salesman who "returns to New York City hoping to put his past behind him" but "living in a trailer and working the night shift, he begins to spiral downwards until the saving of a mysterious woman and some colorful customers rescue him from self-destruction." Hit the jump to check out the Christmas Again trailer now.
Christmas Again Trailer
Written, Produced & Directed by Charles Poekel (a Cinematographer making his feature directorial debut), the film stars Kentucker Audley (seen in V/H/S and Aint Them Bodies Saints) and Hannah Gross. Here are some of the things that have been written about the film when it was reviewed at Sundance 2015:
Richard Brody, THE NEW YORKER: "Unflinching yet tender... A minor marvel of quasi-documentary discovery."
Manohla Dargis, THE NEW YORK TIMES: "[A] sensitively shot slice of realism."
Eric Kohn, INDIEWIRE: "utterly likable riff on urban loneliness that never forces its themes... By merely breaking away from those clichés and carving out a charming fresh path, Poekel makes a quietly defiant statement."
Peter Debruge, VARIETY: "Feels like a throwback to the kind of New York character study someone like Jerry Schatzberg ("Panic in Needle Park") or Hal Ashby ("The Landlord") might have dreamt up back in the '70s."
Brian Tallerico, ROGER EBERT.COM: "A delicate, simple film that really works... Audley does his best work to date, conveying a deepening depression that doesn't stop this man from trying to be helpful to those around him. And Gross is a real find, completely believable in every moment as the warmth that could rescue an increasingly chilly heart."
Here is the official plot synopsis for Christmas, Again:
For a fifth consecutive December, a heartbroken Noel returns to New York City to work the night shift at a sidewalk Christmas tree lot. Devoid of any holiday spirit, he struggles to stay awake during the long, chilly nights in his trailer, while the daytime traffic keeps him from getting any real rest. As he slowly spirals into despair, he comes to the aid of a mysterious young woman in the park. Her warming presence, matched with some colorful customers, help rescue him from self-destruction.