Jennifer Lawrence Will Make Her Directorial Debut With 'Project Delirium'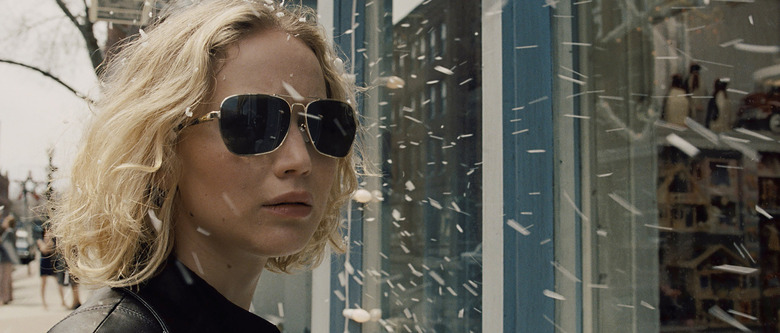 A big year just got bigger for Jennifer Lawrence. The Hunger Games franchise was recently completed with Mockingjay – Part 2, and later next month we'll see her in David O. Russell's Joy, a potential Awards contender. The 25-year-old actress just announced she'll soon make her directorial debut.
Learn more about Lawrence's potential film after the jump.
Speaking with Entertainment Weekly, the actress said she's always been keen on directing. Now, she's finally taking the plunge. Here's what Jennifer Lawrence had to say about the film she's recently signed on to helm:
I have wanted to direct as long as I've wanted to act. I just don't talk about it because I'd rather just do it. I've signed on to direct something called Project Delirium — it's based on this article about mental warfare in the '60s, like an acid experiment gone terribly wrong. It's funny, I've wanted to direct since I was 16 and always thought I should start making steps towards that. If I had tried to do it earlier, I wouldn't have been ready. Now I actually feel ready.
The article she's probably referring to, titled "Operation Delirium," a pretty wild story, is an ambitious project for a first-time filmmaker. The period piece is about secretive experiments, in which the U.S. government tested nerve gas and other chemicals on its own soldiers. 5,000 veterans were affected by the tests, conducted during the Cold War.
Lawrence is getting more involved behind-the-camera. She's also writing her first script with Amy Schumer (Trainwreck). The story follows two sisters, played by Schumer and Lawrence. Here's what she had to say about that project back in August:
Amy and I were creatively made for each other. We have different flavors. It's been the most fun experience of my life. We start the day off on the phone, laughing. And then we send each other pages. And we crack up. I'm flying out tomorrow to see her in Chicago. We'll write a little bit with her sister, Kim, who worked with Amy when she was writing Trainwreck.
Lawrence is already at a point in her career where she can take big chances. Once she's done with the X-Men franchise, she doesn't have any other tentpole films lined up. The actress has found wild success in dramas with David O. Russell, so she's proven to be a draw in movies not called X-Men or The Hunger Games. We'll see if that success carries over to her directorial and writing work. There's no word on when we'll see the Jennifer Lawrence directorial debut.