The First 'Captain America: Civil War' Trailer Is Here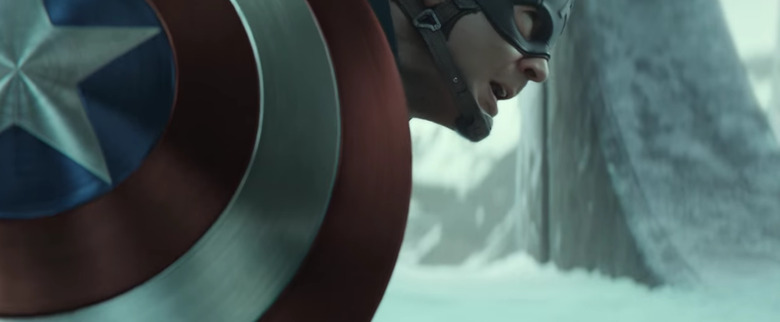 This is the week for counting your blessings, so here's one more thing to give thanks for around the dinner table. Marvel Studios has debuted the very first trailer for Captain America: Civil War, starring Chris Evans, Robert Downey Jr., Sebastian Stan, Anthony Mackie, Scarlett Johansson, and like half the Marvel Cinematic Universe. There's even a new friend, Black Panther, played by Chadwick Boseman. Check it out after the jump. 
The first Captain America: Civil War trailer debuted on Jimmy Kimmel Live. As an East Coaster, I have to admit, I'm a little bit furious at Marvel Studios for saving the Civil War trailer for a late night talk show. Now I'm too pumped up to get to sleep, and it's all Captain America's fault.
Fears that Captain America: Civil War would play too much like an Avengers movie seem, so far, to be unfounded. The focus very much remains on Captain America (Evans). There's also a whole lot of Bucky (Stan) here, for fans who feel he got shortchanged in earlier films. And Iron Man (Downey), of course, makes a strong showing as the film's antagonist.
Not villain, mind you — we've yet to see Daniel Brühl, who plays supervillain Baron Zemo. Also MIA is new Spider-Man Tom Holland. And the MCU's latest new superhero Ant-Man (Paul Rudd), though he's so tiny we don't know he's not secretly in every frame released so far. But hey, we've got another six months until the film actually drops. All in due time, we're sure.
Captain America: Civil War arrives May 6, 2016. Joe and Anthony Russo (Captain America: Civil War) return as directors. Also starring are (deep breath) Paul Bettany, Jeremy Renner, Don Cheadle, Elizabeth Olsen, Emily VanCamp, Frank Grillo, William Hurt, and Martin Freeman. Literally the only Avengers sitting this one out are Thor and Hulk, who'll be off having their own buddy adventure in 2017's Thor: Ragnarok.
"Captain America: Civil War" picks up where "Avengers: Age of Ultron" left off, as Steve Rogers leads the new team of Avengers in their continued efforts to safeguard humanity. After another international incident involving the Avengers results in collateral damage, political pressure mounts to install a system of accountability and a governing body to determine when to enlist the services of the team. The new status quo fractures the Avengers while they try to protect the world from a new and nefarious villain.