Chris Hemsworth Wants More 'Guardians Of The Galaxy'-Style Humor In 'Thor: Ragnarok'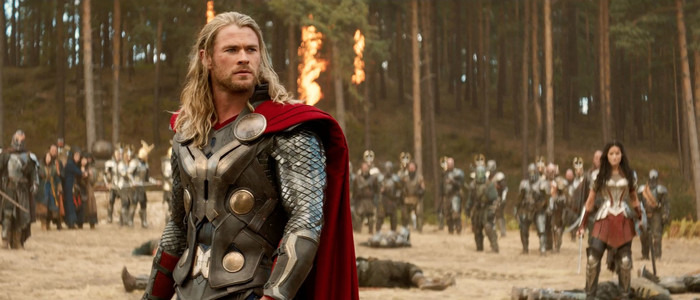 The very title of Thor: Ragnarok promises doom, death, and destruction. But Chris Hemsworth hopes there's some room for levity in there as well. In a recent interview, the Marvel actor suggested the next Thor movie could stand to inject some more "smart wit" and "unexpected humor" a la Guardians of the Galaxy. And it kind of seems like Marvel agrees, seeing as they've hired What We Do in the Shadows' Taika Waititi to direct. 
Speaking to CinemaBlend, Hemsworth expressed his hope of getting more laughs into Thor: Ragnarok.
I think [Thor: Ragnarok] needs to be injected with that sort of smart wit and unexpected kind of humor, kind of what James Gunn came in and did with Guardians [of the Galaxy]. It was like off center and unpredictable, and I think we can definitely use a dose of that, you know?
In fact, Hemsworth wishes 2013's Thor: The Dark World had been funnier, too.
I feel we had less of the sort of the naivety or fun or humor that the first [Thor] might have had. I wish we had more of that in the second [movie]. ... We've done regal. We've done Shakespeare, and we've shown that. I think now it's time to go, 'Okay, cool. Let's try something different,' and Taika just had such a brilliant sort of take and funny kind of ideas about where we could [go], how we could do that.
Hemsworth is only speaking for himself here. He's not the screenwriter or the director, and it's (mostly) out of his control how funny Thor: Ragnarok winds up being. That said, there have been rumors that Marvel hired Waititi as a conscious attempt to lighten up an apparently very dark script by Christopher Yost and Craig Kyle. Thor: Ragnarok probably wouldn't work as a Guardians-style comedy, but there's a whole spectrum between that and Man of Steel-level dourness.
For my money, the fish-out-of-water comedy was the best part of the first Thor, and the film tended to lose steam whenever it tried to get down to the more serious, and more predictable, business of world-saving. That humor was sorely missed in Thor: The Dark World, especially in scenes where Loki wasn't around. On the flip side, the comic relief character Darcy (Kat Dennings) seems to be polarizing among fans. Those who don't care for her probably are none too thrilled at the thought of Thor trying to be funny.
But when wielded correctly, humor can be a powerful weapon for an otherwise dead-serious blockbuster. The Hunger Games: Mockingjay – Part 1 benefitted greatly from having Effie Trinket around to break the tension whenever the film threatened to get too glum. Those funny bits underscored, rather than undermined, the darker moments. Thor is arguably at his least interesting when he's being a noble and regal hero, so maybe he needs some comedic beats to bring out his fun side.
Besides, just look at that smile. Why wouldn't you want to bring it out more?
Thor: Ragnarok is scheduled to open November 3, 2017. Mark Ruffalo, Tom Hiddleston, and Jaimie Alexander also star.