Harrison Ford And Chewbacca Settle Their Feud On Jimmy Kimmel's 'Star Wars' Bonanza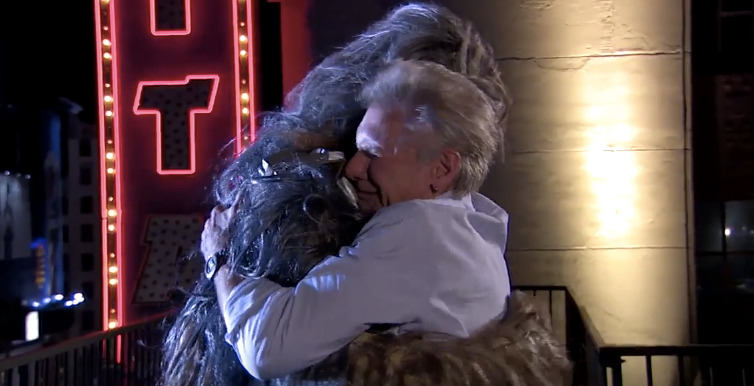 If you've been watching Jimmy Kimmel Live over the past few years, or if you just pay attention whenever there's a Star Wars-related clip that makes its way online, then you know that Harrison Ford has some serious beef with Chewbacca. The Wookiee seems to have done some nefarious activities with the wife of the man who plays his on-screen pal. Ford is so upset at Chewie that he has called him a "son of a bitch" when he tried to stop by his dressing room in 2011, and a "Wookiee sack of s***" when he popped up again in 2013.
But on last night's Star Wars: The Force Awakens-themed episode, Ford finally settled the feud as Chewbacca was threatening to end his life on top of Jimmy Kimmel's studio. Plus, there was plenty of other fun stuff, like a trivia contest between the cast and a seven-year old kid, a hologram from Carrie Fisher and a Star Wars edition of Lie Witness News.
Here's the Harrison Ford and Chewbacca feud settled on the Jimmy Kimmel Star Wars episode:
There's nothing more magical than an angry Harrison Ford yelling through a megaphone up at a suicidal Chewbacca. I'm glad these two settled the score before the premiere of Star Wars: The Force Awakens so there's no awkwardness on the red carpet. Plus, it's nice to see that Kimmel and his crew finally got a decent Chewbacca costume for this bit. It might even be the official one.
But this wasn't the only Star Wars fun that was had on Jimmy Kimmel Live last night. Since the late night show is on ABC, a network owned by Disney, Kimmel had the cast of The Force Awakens at his disposal for some fun activities. For example, Kimmel brought on seven-year old genius Arden Hayes to face John Boyega, Adam Driver, Carrie Fisher and Daisy Ridley in a battle of Star Wars trivia with J.J. Abrams serving as the judge:
However, it seems like Carrie Fisher was a little apprehensive to appear on the show when she accidentally butt-dialed Kimmel by way of R2-D2's holographic message delivery system. I didn't think that's how hologram messages worked, but maybe technology has changed in the past 30 years:
And finally, the folks at Jimmy Kimmel Live went around Hollywood with a Star Wars edition of Lie Witness News, using the names of Star Wars characters, planets and more and asking people about them as if they were part of real news:
If you want to see more from the Star Wars episode of Jimmy Kimmel Live, just head over to the show's YouTube page for the rest of the highlights, including Carrie Fisher whispering the ending of The Force Awakens in Kimmel's ear.