'Barbershop 3: The Next Cut' Trailer: A Comedy That Tackles Gang Violence In Chicago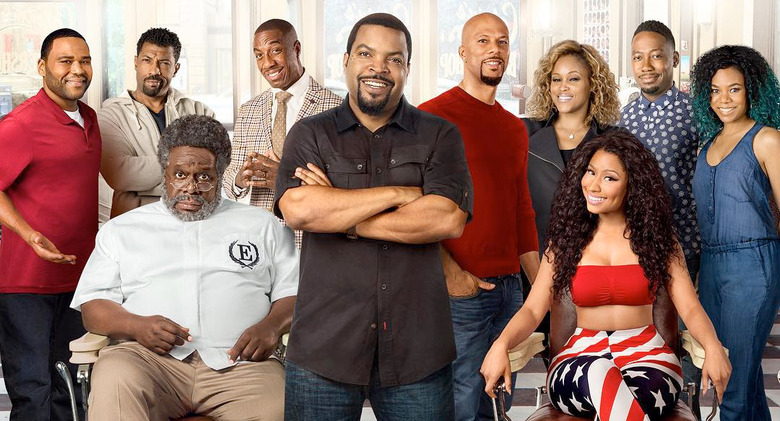 By the time Barbershop 3: The Next Cut hits theaters, it will have been 12 years since the previous comedy sequel hit theaters, and 11 years since the spin-off Beauty Shop with Queen Latifah arrived. But the new sequel aims to combine both worlds (kinda), and has them teaming up to fight the increasing presence of gang violence on the streets of Chicago and around the barbershop itself.
Honestly, I'm a little surprised that what started as harmless comedy franchise is tackling a pretty serious issue. But as you'll see in the first Barbershop 3 trailer, this isn't like Spike Lee's Chi-raq, and there is still plenty of lighthearted comedy to be had.
Here's the Barbershop 3 trailer from JoBlo:
As you can see Calvin's (Ice Cube) barbershop has partnered up with Angie's (Regina Hall) beauty shop to form one single place for men and women to get their hair done, and as you might have guessed, it certainly switches up the banter between the stylists quite a bit. Some of the customers don't seem too happy about it, but as far as the dynamic between characters goes, it's a nice change of pace.
The new faces at the shop include Common and Nicki Minaj, the latter of whom will cause some issues for the former, who is married to Eve's character Terri. But that's just a side story as the real plot focuses on both sides of the shop coming together to prevent Chicago from being devastated by gang violence, and that includes keeping Ice Cube's son out of trouble as well.
As someone who has never really cared about the Barbershop films, I have to say that I'm impressed how it has evolved enough to allow for this kind of story to happen, especially with this talented cast that also includes Cedric the Entertainer, Anthony Anderson, JB Smoove, Lamorne Harris, Sean Patrick Thomas, Deon Cole and rapper Tyga. For any Beauty Shop fans, it looks like Queen Latifah is still situated in Atlanta, unless she ends up paying a visit to Chicago with a cameo.
Barbershop 3: The Next Cut is directed by Malcolm D. Lee (The Best Man Holiday, Scary Movie 5, Soul Men) with a script from Black-ish series creator Kenya Barris (who also wrote on The Game and the Are We There Yet? TV series) and Tracy Oliver. The comedy sequel hits theaters on April 15th, 2016.