Martin Scorsese And William Monahan May Jump An 'Evel Knievel' Movie Into Your Local Theater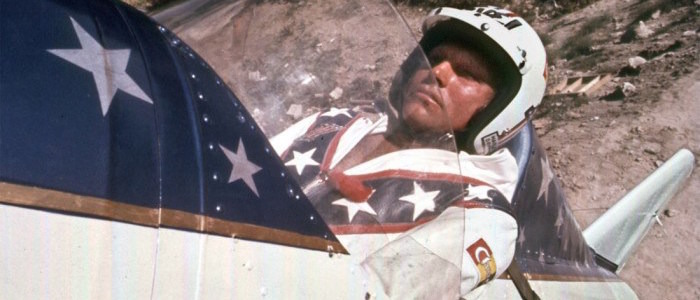 Someone in Hollywood is going to make an Evel Knievel movie and one of our great living filmmakers is going to be sucked into the project. For awhile, it looked like that would be Darren Aronofksy, with Channing Tatum putting on that famous jacket for Sony. But Aronofksy then departed the project to make a movie with Jennifer Lawrence and an Arnold Schwarzenegger revenge film.
Now, Paramount is prepping a rival Evel Knievel biopic and they're pulling out all the stops. They don't have star with Tatum's clout attached, but they do have Oscar-winning screenwriter William Monahan. Oh, and they have the attention of director Martin Scorsese.
Hit the jump for more on the Scorsese Evel Knievel movie.
Collider has the story and they emphasize that this isn't a sure thing yet. Scorsese won't sign onto the project until he sees a finished draft of Monahan's screenplay, so there's always a chance the legendary filmmaker behind Goodfellas and Raging Bull will find another project with which to occupy himself. Still, the stars seem to be aligning. Monahan won his Academy Award for penning The Departed, which also netted Scorsese his Best Director trophy. Terrence Winter, who wrote the screenplay for Scorsese's The Wolf of Wall Street and ran HBO's Boardwalk Empire (on which Scorsese was a producer), is producing. In other words, Scorsese is the final missing piece in what could be a huge reunion of some very talented people.
Monahan's screenplay will be based on Evel Knievel On Tour, the 1977 book by Sheldon Saltman that painted a less-than-flattering portrait of the infamous daredevil. Specifically, the book delved into Knievel's failed attempt to ride a rocket over Snake River Canyon in 1974. The results were more embarrassing than painful, as you can see in the footage of the stunt below.
Although he may not be the first name that comes to mind when you think of men wearing gaudy outfits ramping motorcycles over world record-breaking distances, Scorsese is certainly an interesting choice for his subject matter. He's always had an interest in the lifestyles of driven and powerful men who follow their dreams no matter how deluded, dangerous, or bizarre. Just look at Howard Hughes in The Aviator, Jordan Bellfort in The Wolf of Wall Street, and even Jesus Christ in The Last Temptation of Christ. Scorsese's obsession with obsession, his Catholic understanding of suffering, make him a fascinating choice for this material.
Right now, Scorsese is finishing up work on his passion project, the religious drama Silence. After that, he's planning to re-team with Leonardo DiCaprio to adapt the incredible historical drama The Devil in the White City. And maybe, after that, he will take on the story of Evel Knievel.