'Carol' Trailer: Get Lost In This Wordless Trailer For Todd Haynes' Latest Film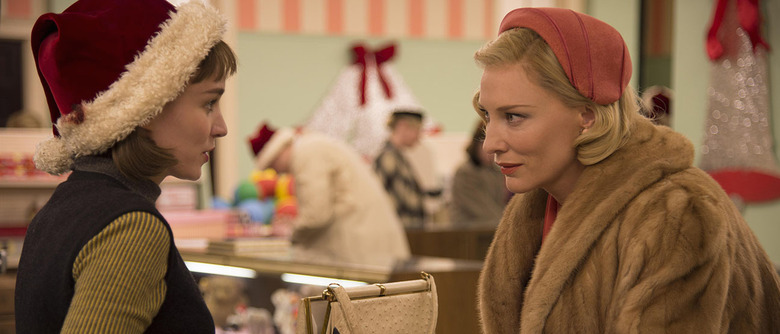 Todd Haynes' Carol is an excellent film. The more I think about it, the more I love it. It's a quiet movie, one that speaks to you through performances and visuals, not always dialogue. It's a rare movie, in that sense, and it's one of the many reasons why you should all see it in a theater. The Weinstein Company has released another trailer for film, which you can watch after the jump.
A wordless trailer suits Carol. It's not that the dialogue isn't important in the film, based on Patricia Highsmith's novel, but Phyllis Naggy's script is often more about what these characters, played by Cate Blanchett and Rooney Mara, choose not to say. Naggy and director Todd Haynes (Far From Heaven) have crafted a visually arresting drama, where the storytelling is in the gestures, glances, and compositions.
Watch the latest Carol trailer:
Gorgeous, isn't it? Edward Lachman, the DP behind The Limey, Far From Heaven, and The Virgin Suicides, shot the film. Lachman and Haynes have showed characters trapped before in prior work, but they found a really effective visual motif with Carol. They often show characters, even supporting players, through glass, as if they're caged or there's a barrier they can't break through, and one of the film's most dramatic moments involves Kyle Chandler (Friday Night Lights) in one of those shots, in complete silence. It's such a simple but striking moment.
Here's the official plot synopsis for Carol:
In an adaptation of Patricia Highsmith's seminal novel The Price of Salt, CAROL follows two women from very different backgrounds who find themselves in an unexpected love affair in 1950s New York. As conventional norms of the time challenge their undeniable attraction, an honest story emerges to reveal the resilience of the heart in the face of change. A young woman in her 20s, Therese Belivet (Rooney Mara), is a clerk working in a Manhattan department store and dreaming of a more fulfilling life when she meets Carol (Cate Blanchett), an alluring woman trapped in a loveless, convenient marriage. As an immediate connection sparks between them, the innocence of their first encounter dims and their connection deepens. While Carol breaks free from the confines of marriage, her husband (Kyle Chandler) begins to question her competence as a mother as her involvement with Therese and close relationship with her best friend Abby (Sarah Paulson) come to light. Carol is directed by Todd Haynes and written by Phyllis Nagy with moving performances from Cate Blanchett, Rooney Mara, Sarah Paulson, Kyle Chandler, Jake Lacy and Cory Michael Smith.
Carol is now in limited release.