'Zootopia' Trailer: Of Course The DMV In A Cartoon Animal City Is Run By Literal Sloths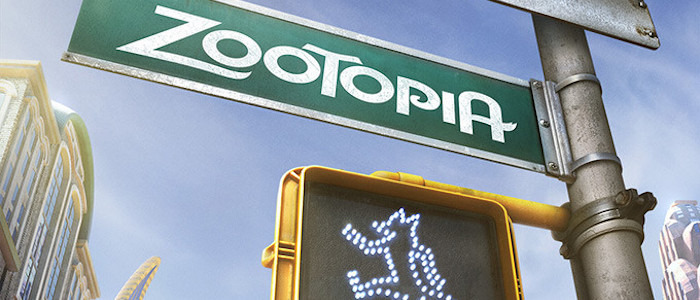 The Walt Disney Company was built on the backs of talking animals, so the existence of a movie like Zootopia was inevitable. Why settle for a talking mouse and a talking duck and their small circle of friends when you can have an entire city populated by talking animals, each of them ready to line store shelves in huggable plush form?
And while the merchandising opportunities for Zootopia seem enormous (you just know Disney is already looking for ways to squeeze these characters into their theme parks and Disney Infinity and what-have-you), the movie itself looks clever and cute. A new preview has arrived, offering a look at a single scene from the movie and it's charming stuff. Walt Disney Animation Studios has been on a roll recently with Frozen and Big Hero 6, both of which took home Academy Awards, so no pressure, Zootopia.
Watch the new Zootopia trailer after the jump.
Directed by Byron Howard (Bolt and Tangled) and Rich Moore (Wreck-It Ralph), Zootopia takes place in a sprawling urban metropolis occupied entirely by talking animals. Jason Bateman plays a fox named Nick Wilde who, framed for a crime he didn't commit, must team up with an eager police rabbit named Judy Hopps (voiced by Ginnifer Goodwin). The new trailer doesn't shed any actual light on this plot, but it does offer an extended scene from the movie and it just looks adorable.
As you'd expect, Zootopia seems to be using specific animal types to provide commentary on actual human society, with Bateman's suave con artist literally being a fox and so on. Naturally, this means that the city's DMV is staffed entirely by sloths, so when our furry heroes stop by as part of their investigation, they find themselves in for a bit of a wait. Let's just be upfront about it: this movie looks adorable. Hopefully, the actual movie is as amusing as this trailer:
In addition to Bateman and Goodwin, Zootopia features the vocal talents of Idris Elba, Alan Tudyk, J.K. Simmons, Jenny Slate, Bonnie Hunt, and Octavia Spencer. Here's the official synopsis:
The modern mammal metropolis of Zootopia is a city like no other. Comprised of habitat neighborhoods like ritzy Sahara Square and frigid Tundratown, it's a melting pot where animals from every environment live together—a place where no matter what you are, from the biggest elephant to the smallest shrew, you can be anything. But when optimistic Officer Judy Hopps (voice of Ginnifer Goodwin) arrives, she discovers that being the first bunny on a police force of big, tough animals isn't so easy. Determined to prove herself, she jumps at the opportunity to crack a case, even if it means partnering with a fast-talking, scam-artist fox, Nick Wilde (voice of Jason Bateman), to solve the mystery.