Nickelodeon Making 'Hey Arnold' TV Movie, In Case You're Wondering Why Your Millennial Nostalgia Is On Fire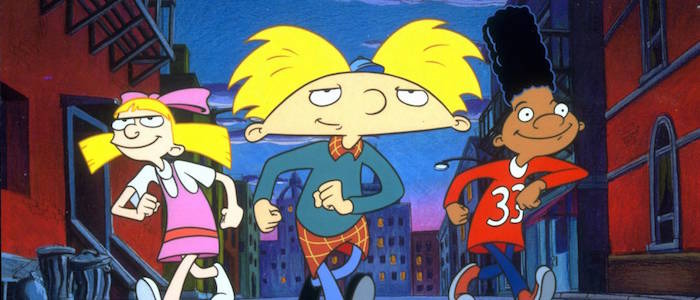 Sorry, '80s kids. Your window of importance to the nostalgia-machine is coming to an end. The '90s are back and they're bringing all of their movies and shows along for the ride.
The latest splash of '90s-flavored news (we'll be fully submerged in pure liquid '90s by 2018 or so) is that Nickelodeon, the curator of the average Millennial's childhood television intake, is planning to reach into their back catalog for new content. That means that several of the most popular shows from a very specific era of Nickelodeon may be seeing the light of day once more. First up is Hey Arnold, the animated series that debuted in 1996 and inspired a theatrical film in 2002 before being axed in 2004. Nickelodeon has revealed that a television movie tying up the loose ends from the series is on the way with original series creator Craig Bartlett on board as a writer and executive producer.
Learn more about the Hey Arnold TV movie after the jump.
The news comes to us via a much larger article in Variety, who report that Chris Viscardi, best known to you '90s kids out there as the co-creator of The Adventures of Pete and Pete, has been named "senior vice president of content development for franchise properties" at Nickelodeon. His main job: find ways to resurrect all of your favorite shows from back in the day.
Russell Hicks, Nick's president of content development and production, claims that these revived shows will target younger audiences first, but let's face it: the mere existence of The Splat suggests that Nickelodeon is well aware of the fact that the kids who grew up watching Rocko's Modern Life, The Angry Beavers, and Ren and Stimpy are still loyal to their childhood shows. After all, grown-ass people are currently drawing grown-ass versions of the Rugrats characters.
Ask anyone who wasn't drinking, driving, voting (hopefully not at the same time) in the '90s and they'll probably be able to sketch out the basic outline of Hey Arnold: a kid lives in a boarding house with his grandparents and has all kinds of odd and unusual adventure around his unnamed city with his diverse and eclectic group of friends. He also has a football-shaped head, as other characters constantly remind him. The show was one of the sweeter and more nuanced, telling stories about characters from all ethnicities and backgrounds and walks of life. It was certainly the only cartoon at the time that featured a character having a flashback to Fall of Saigon at the end of the Vietnam War. The series felt ahead of its time 20 years ago, so maybe a modern update is the right idea.
Variety cannot confirm when the TV movie will air, but it does say that the whereabouts of Arnold's long-absent parents will be fully addressed. Which is surely valuable information for the Hey Arnold completist in your life.
And if you have a favorite old school Nick show that you secretly or not-so-secretly care to revisit, chances are strong that the network is considering some kind of revival. As Viscardi says in the article when asked if original creators are being invited back to the their programs:
We are in discussions with them now and will probably have more to say in the next few months. There's a good likelihood we'll be doing more than just 'Arnold' in terms of doing specials.
So keep on dreaming the impossible dream, Aaahh!!! Real Monsters and Rocket Power fans. Someone out there is thinking of you.