LOL: J.J. Abrams Reveals 'Star Wars: The Force Awakens' Auditions On 'Saturday Night Live'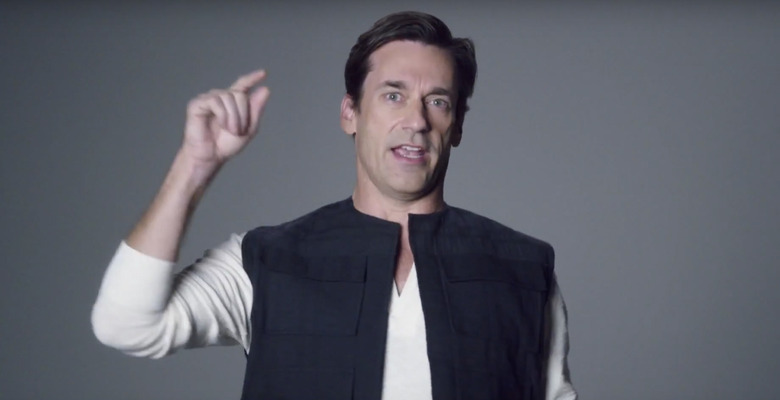 We'll have a full review of the latest episode of Saturday Night Live hosted by Matthew McConaughey up later today, but in the meantime, we couldn't help but share this pre-recorded sketch from last night. A whole slew of guest stars popped on SNL for this sketch that features J.J. Abrams (who actually appears in the beginning) showing off some of the screen tests of other actors who tried to land a part in Star Wars: The Force Awakens.
Sofia Vergara, Javier Bardem, Shaquille O'Neal, John Mayer, Danny DeVito, Chris Tucker and Michael Buble for some reason, all audition for the movie, with a little help from the real Daisy Ridley and John Boyega. Watch it below!
Here's the Saturday Night Live The Force Awakens auditions from the SNL YouTube page:
Every now and then Saturday Night Live pulls out a screen test sketch like this so their cast can whip out their arsenal of celebrity impressions, and most of the time it's pretty funny. This is certainly one of the good ones, especially with the likes of Emma Stone and Jon Hamm appearing as themselves as well, the former softening the blow of her playing Chinese-Hawaiian in Cameron Crowe's Aloha recently. Plus, Boyega gets to make a crack about how unbelievable it is for some to see a black Stormtrooper in Star Wars.
But for me, Bobby Moynihan is the scene stealer when he pops up both as Danny DeVito auditioning for BB-8 and as George Lucas, just wandering around the studio, asking for some Coke Zero. I could probably watch Danny DeVito rolling around on the ground with that cheeky smile on his face for a good 15 minutes and never be bored. It also wouldn't be bad to see Moynihan as George Lucas in some kind of mockumentary.
This isn't the first time Saturday Night Live has tackled auditions for Star Wars. Back when the Special Editions came out, they showed off some of the "lost" auditions for the original movies, featuring Kevin Spacey doing some amazing impressions of Christopher Walken and Jack Lemmon auditioning for Han Solo and Chewbacca respectively:
As the hype for The Force Awakens continues to grow in the final month leading up to the movie, I'm betting this won't be the last time we'll get a sketch related to Star Wars. If you missed the previous The Force Awakens parody on SNL, you can still check that out right here. And don't forget, the weekend The Force Awakens hits theaters, Tina Fey and Amy Poehler will be hosting Saturday Night Live, likely making some kind of joke about how their movie Sisters will destroyed at the box office that weekend.