Watch This Wonderful 'Hannibal' PETA Ad Before Scarfing Down A Turkey On Thanksgiving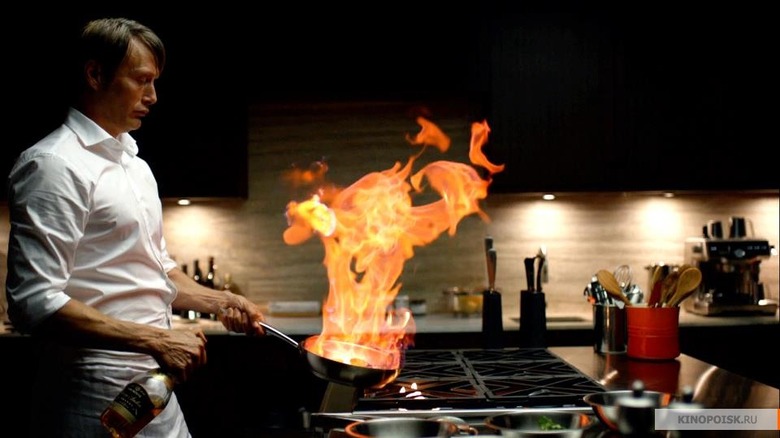 I miss Hannibal. Sometimes the NBC show would make me sick to my stomach, in a great way, or make me crave an extravagant feast full of meat — preferably non-human meat. The show was some of the finest food porn to ever be made for television. Hannibal wasn't always dining on leftover eyeballs or freshly baked brain, so it's okay to admit some of his cooking looked pretty damn good.
The show's creator, Bryan Fuller (Pushing Daisies), unsurprisingly, is a vegetarian. Fuller and Hannibal's co-star, Gillian Anderson (The Fall), have returned to the world of Hannibal for a PETA commercial, launched just in time for Thanksgiving.
Watch the 30-second advertisement after the jump.
Fuller directed the commercial, playing off a huge moment in season three of Hannibal. If you haven't seen season three of the show by now, then you should probably stop reading this and not watch the ad. So, now that you've presumably stopped reading, here's the SPOILER:
In a post-credits scene, it's revealed Dr. Bedelia Du Maurier (Anderson) cooked her own leg. The big surprise isn't the amputation, but that the dinner table is set for three. Does that mean she's expecting Hannibal and Will to join her? If they do, that one would make for one hell of a dinner conversation.
Even if you're an unapologetic meat eater, this ad (via EW ) should satisfy you:
The show rarely distinguished between eating a man or an animal. To Hannibal, people are often animals, no different from a pig. Flesh is flesh, no matter the species. In an interview with Den of Geek, Fuller discussed the depiction of meat eaters on the show:
Which is one of the reasons I loved working with José Andrés, the chef who's our culinary consultant. When we sat down with him he had an attitude of meat is meat is meat is meat in terms of not judging eating a human being versus eating an animal, and not making that distinction. I was like, 'What could you eat on a human being?' He was like, 'You could eat everything. You can emulsify eyeballs, you can grind the bones to make jello gelatine.' There was no kind of censorship which I, as an animal lover appreciated, I thought: that's fair.
This PETA ad isn't going to make me think twice on Thanksgiving, but maybe it will for some people. It's certainly effective and very funny. If anything, it just makes me sadder Hannibal is probably done for good.