'Central Intelligence' Trailer: A Little Kevin Hart And A Big Dwayne Johnson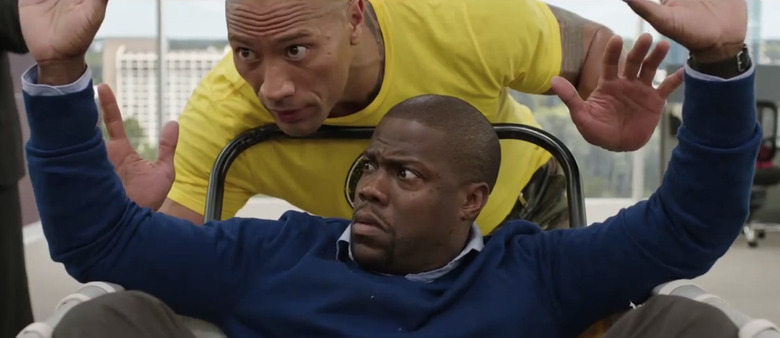 Teaming up Kevin Hart with Ice Cube in Ride Along worked for some people, and the movie was enough of a box office hit to warrant a sequel next year. Personally, it just wasn't what I was looking for as far as quality comedy writing goes. However, as someone who isn't really a fan of Hart's comedy, the first trailer for Central Intelligence, teaming him up with Dwayne Johnson, actually looks like it's going to be a lot of fun. Watch!
Here's the Central Intelligence trailer from JoBlo:
Kevin Hart plays a former high school sports star turned accountant who, on the eve of a class reunion, is contacted by a former classmate (Johnson) who used to be a bullied "loser," but who is now a contract killer for the CIA. He wants Hart's character's help to foil a plot to sell classified military secrets. And we know at some point Hart ends up in Johnson's lap as we saw in a first look photo yesterday.
For me, it's Johnson's perpetually upbeat attitude and nonchalant approach to danger and intrigue that really sell this movie. Johnson previously described his approach to the character on an Instagram post like this:
The inspiration behind this character 'Bob' has always been Tom Hanks in 'Big' with an added twist. He's a grown man who's extremely childlike and views the world thru exuberant and enthusiastic teenage eyes... Loves to wear his favorite Public Enemy shirt, cargo pants and sneakers to work.. and rocks a fanny pack which holds his Bruce Lee quotes and a condom (he's always prepared). The 'added twist' is Bob has an extremely high IQ and is one of the most lethal men on the planet as a C.I.A. contract killer. Oh the most important character trait: He hates bullies.
That sounds like a truly funny character. And having Johnson be the one who plays up the comedy seems to offset Hart's usual overacting and hyperactivity, at least a bit, which is a relief for someone like me who can only handle him in small doses.
We're the Millers director Rawson Thurber Marshall is at the helm of this comedy with a script from Neighbors co-star Ike Barinholtz and Dave Stassen that was rewitten by Sean Anders and John Morris (directors of Horrible Bosses 2) and Marshall himself. The rest of the cast includes Amy Ryan, Ed Helms, Danielle Nicolet and for some reason, Bobby Brown.
Central Intelligence hits theaters on June 17th, 2016.