'Star Wars: The Force Awakens' Has Already Made $50 Million In Pre-Sales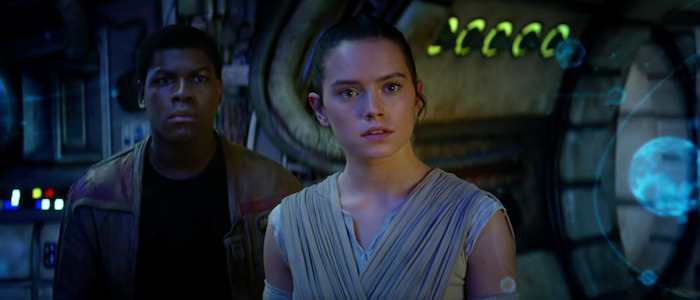 Remember when you tried to buy Star Wars: The Force Awakens tickets the moment they went on sale, and the entire internet just rolled onto its side and died? The rush for tickets kneecapped the internet for a couple hours, crashing services like Fandango and forcing fans to rush out to their local theater and buy tickets at the counter like rubes. It was a weird day to be a Star Wars fan, and a great day to hold Disney stock.
Now, the results of all the furious fan-scrambling have been revealed and The Force Awakens has already sold $50 million worth of tickets a month before the movie even opens. To paraphrase the great Larry David, that's pretty good. Pretty, pretty, preeetty good.
Find more on the Star Wars pre-sales after the jump.
Okay, so it's a little more than pretty good. Fandango tells Variety that The Force Awakens is the biggest pre-seller in the history of the company. The Hollywood Reporter says that it doubled the previous record-holder for most pre-sold tickets, 2012's The Dark Knight Rises, which sold $25 million worth of tickets in advance. And since fandom is a competition these days, and box office a major component in ensuring that your particular flavor of entertainment is beating everyone else's, Star Wars fans can pat themselves on the back. You did it. You helped build the swimming pool that Kathleen Kennedy built to house all of the incoming Star Wars dollars!
However, both outlets are quick to point out the downside of this situation. Now, Star Wars: The Force Awakens has to be pretty much the biggest movie ever or it's a letdown. Expectations were already enormous before the film racked up $50 million more than a month before release. No movie has opened to more than $100 million in December, with the $85 million bow for The Hobbit: An Unexpected Journey still holding the month's record. In order to come close to matching expectations, Star Wars needs to shatter that record into a million tiny pieces, and find a way to top Jurassic World's $208 million opening weekend from earlier this year.
This is why you've been seeing so many Star Wars TV spots over the past few weeks. Disney and Lucasfilm know they have you, the big fan who plans to see this thing several times on opening weekend. Now, they're going after Joe and Sally Normal, and their kids Richie and Henrietta Normal. You know, the people who have things to do over the holidays that don't involve seeing a Star Wars movie. If they can be won over, if they can be pulled away from holiday celebrations and convinced to buy tickets on opening weekend, then The Force Awakens has succeeded.
Star Wars: The Force Awakens opens on December 18, 2015.